End-Use Case Study
LCP Compound Completes The Circuit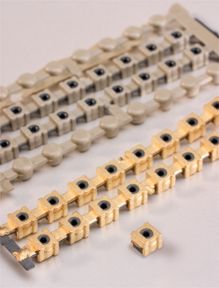 Tyco Electronics supplies electronic components to a diverse spectrum of OEMs around the world. Well-versed in the chemistry and uses of plastics and metals, Tyco engineers are often called on for their expertise in using these materials to control conductivity and electronic noise in many of the electronic devices they design.
When designing a "micro-mini" switching co-ax connector for a cellular phone, Tyco engineers faced some familiar challenges: boosting conductivity, shielding from interference, and dissipating static. The swivel connector serves dual functions: a connection for internal system testing and a coaxial connector for an external commuter antenna. To accomplish this in a part with surface area of only 3 square millimeters, Tyco selected a combination of materials for specific functions. Successive layers of metal were built up on a thermoplastic substrate—copper for conductivity, nickel as an anti-corrosive, and finally gold for solderability. Each layer needed to adhere to the thermoplastic substrate and be sent through a re-flow oven to complete a thermal bond to a printed circuit board.
With these requirements, any plastic substrate selected would have to withstand IR re-flow soldering temperatures of 300 degrees F (150 degrees C) while maintaining a dimensional tolerance of 0.015 in (0.38 mm). The material also needed to be chemically compatible with the metal plating process. Excellent dielectric properties and the ability to withstand soldering temperatures make liquid crystal polymer (LCP) an excellent choice for electronic components. The coefficient of thermal expansion for LCP is unique, making it ideal for varying temperature and critical dimension use.
To facilitate plating, engineers from Tyco and RTP Company worked together to develop a specialty RTP 3400 Series platable LCP compound that also allowed overmolding to another unmodified LCP base material. According to Karl Geoca, engineering manager for Tyco, "RTP Company had demonstrated compounding expertise to us on previous projects—we previously had a filled material that met our needs, but it caused unacceptable wear to the mold. RTP Company identified the culprit minerals and reformulated the compound to remove them." Citing this experience and the need to meet exacting standards, Geoca had full confidence in RTP Company to compound this special material for Tyco. "We have always received materials from RTP Company that have performed exactly as designed," he said, "and the compounds came with the usual RTP Company support; they were available for consultations on processing and gate location." He continued, "Most importantly, the compound was consistent and met our specifications."
Tyco Electronics is a global leader in the manufacture of automotive, communications, computer, and consumer electronics equipment. For more information, visit their website at www.tycoelectronics.com.