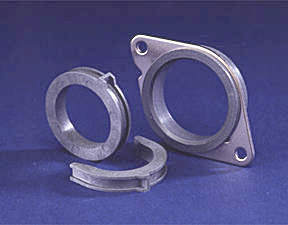 Fuser roller bushings used in various name brand copiers perform at temperatures of up to 392 degrees F and speeds from 10-350 rpm, depending on copier model.
Since the bushings are supporting aluminum counterparts, the lubricity of the material is critical.
When the original material in the fuser roller bushings failed, the manufacturer turned to RTP Company for a high-performance specialty compound.
The part, previously made of PPS with a high loading of PTFE, demands heat resistance, structural integrity and wear resistance. The original material failed due to low heat resistance.
An RTP 4000 Series (PPA) compound meets all requirements.
It achieves a heat deflection temperature of 500 degrees F at 264 psi. The material exhibits a flexural strength of 30,000 psi and an unnotched impact strength of 8 ft. lbs./in. The RTP Company material exceeds specifications for heat, wear and abrasion resistance, while retaining processing ease.