Antistatic Housing Protects Microscopes and Looks Sharp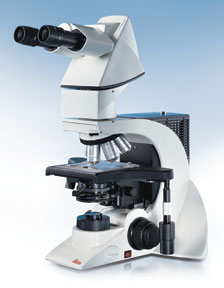 The science of microscopy uses precision optical instruments to view tiny samples or objects. Basic microscopes have been used for centuries and have helped advance science in countless ways.
Microscope manufacturers continue to innovate today — developing new viewing technologies while increasing magnification capabilities and clarity to benefit ongoing scientific investigation. Leica Microsystems, a leading global producer of microscopic imaging systems, leads this effort by continually modernizing their line of optical microscopes to meet the current needs of the scientific community.
Engineers at Leica were searching for an external housing material that would meet their protective anti-static and mechanical requirements while being fully colorable and capable of passing rigorous long-term UV stability testing for colorfastness. They found their solution with RTP Company, selecting a precolored and UV stabilized PermaStat® 2500 Series permanently anti-static PC/ABS alloy compound for their microscope housings.
"Leica is known for the unique styling of their microscopes, and our signature white color gives them a consistent and aesthetically-pleasing overall look," said Kelvin Ho, Procurement Engineer at Leica Instruments Singapore. "The anti-static properties of RTP Company's compound not only protect our microscope's sensitive electronic parts and reduce dust accumulation, but the material also passed a one-year accelerated aging process test — ensuring our equipment will maintain its clean and polished appearance."
"There is only one word for RTP Company's material — excellent," said Ho. The PC/ABS compound is tough and provides excellent strength and impact resistance properties that safeguard the delicate optics and mechanics of Leica's microscopes during continuous commercial use.
"We couldn't have found a better material or supplier," said Ho. "The product and support we have received, particularly from RTP Company's Singapore facility, have been just flawless."
Leica Microsystems, headquartered in Wetzlar, Germany, is a leading global designer and producer of innovative high-tech precision optics systems for the analysis of microstructures. For more information, visit www.leica-microsystems.com.