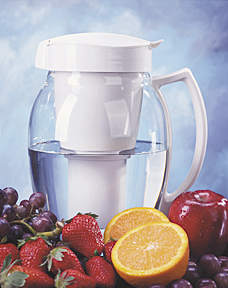 Families are increasingly concerned about contaminants in tap water. This concern has created a growing market for water-filtering products. Consumers are gladly spending money on in-home dispensers, faucet filters, and commercially-bottled spring water.
Culligan, a traditional leader in water purity products, developed a convenient, lightweight glass pitcher filter system that moves elegantly from refrigerator to table. The pitcher is sold in department stores as a functional, versatile way to use filtered water in "everything from infant formula to chicken soup."
Culligan came to RTP Company for a precolored thermoplastic that looked as pure and clean as the filtered water. An RTP 100 Series white polypropylene was specified for the filter hopper, lid and spout. Polypropylene is economical and offers ease of processing with excellent chemical resistance and good mechanical properties. The lightweight parts are molded in single cavity tools.
The gasket seal around the lid is molded from an RTP 2800 Series polyolefin thermoplastic elastomer, which combines the properties of vulcanized rubber with the processing advantages of thermoplastics.
Both compounds are FDA and NSF compliant to ensure they are biologically safe and do not counteract the benefits of the filter action. They maintain performance at refrigerator and room temperatures.
Color plays the most important role in the pitcher's consumer appeal. "Our challenge was in getting two different compounds to match," said Rick Primdahl, Senior Development Engineer for Culligan. "We were very fussy about the final color, since any hint of green in the part is obviously undesirable when dealing with water consumption."
Polypropylene often looks translucent and can take on a green hue, especially when parts are molded thinly or in cylindrical shapes where light passes through. Initial color tests on the pitcher's filter housing indicated this problem. RTP Company color technicians solved it by raising the density of the colorant to increase opacity. The part achieved a critical match to the pure eggshell color of the other components.
Contact Culligan in Northbrook, IL, at 847-205-6031 for details on their Designer Glass Filter Pitcher System.