Stainless Steel Fiber Compound Prevents EMI/RFI Interference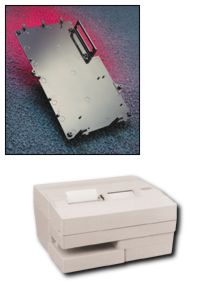 "Our point-of-sale printers sit side-by-side with other electronic equipment," explains Chris Webber, Supplier Engineer at Axiohm Transaction Solutions. "They need to be properly shielded so they don't give off or react to interference created by these neighbors." In the Axiohm 7150 Printer, the injection molded base provides critical shielding properties thanks to an RTP Company specialty compound.
The RTP 300 Series polycarbonate compound contains stainless steel fibers that provide protection against electromagnetic interference (EMI). The material also protects from radio frequency interference (RFI) and electrostatic dissipation. Surface resistivity is <104 ohm/sq and static decay is <2.0 seconds.
In addition to its shielding properties, the precolored compound is rated UL94 V-0 at 1/16 in (1.59 mm). "All of the printer components have to be flame retardant in order for us to meet UL certification for the entire assembly," continued Webber.
The printer base has been molded by Harbec Plastics since 1988.
Axiohm Transaction Solutions, Inc., is one of the largest designers, manufacturers and marketers of transaction printers in the world. Contact them in Ithaca, NY, at 607-274-2500 or www.axiohm.com. Harbec Plastics in Ontario, NY, can be reached at 716-265-0010 or www.harbec.com.