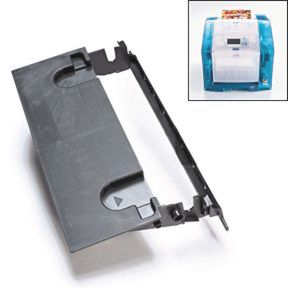 The new Phaser® 840 Solid Ink Color Printer from Tektronix, Inc., has earned numerous awards as one of today's premier office color printers. Besides brilliant color at a speed of 10 pages per minute, the printer features low cost per copy operation. Part of the low-cost solution is achieved by a self-oiling and cleaning maintenance system.
Tektronix, Inc., turned to RTP Company for an RTP 200 Series nylon 6/12 specialty compound that offers an exceptional combination of physical strength, wear resistance, chemical resistance, and flame retardance.
The compound is glass fiber reinforced and lubricated with PTFE to enhance wear properties. Notched Izod impact strength at 1/8 in. is 1.7 ft lbs/in. (91 J/m), tensile strength is 16,000 psi (110 MPa), and flexural strength is 25,000 psi (172 MPa). The material has a UL V-0 flame retardant rating.
"We tested a lot of materials, and finally settled on this one," remarked Kurt Jenkins, Plastics Engineer for Tektronix. "It has the performance we need and, more importantly, is readily available with short delivery times. RTP's material will continue to be used as we grow our business worldwide. Their service and responsiveness make the difference for us."
Tektronix, Inc., is located in Wilsonville, Oregon. They manufacture a complete line of workgroup color printers. Contact them at 1-800-835-6100 or visit their website at www.tektronix.com/Color_Printers/.