End-Use Case Study
Structural and TPE Compounds Combine to Make Prosthetic Fingers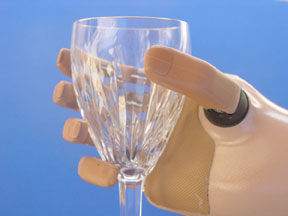 Patriotic flag waving isn't only a political act, for many it's a call to action. Numerous soldiers have lost limbs and digits in recent conflicts — circumstances that often render them partially disabled. Fitted with replacement artificial limbs, recipients can live fuller lives.
Technological and material advances have facilitated developments in prosthetics that have made artificial limbs stronger and easier to use. And, while there were various prosthetic hand designs on the market, no functional mechanical fingers had yet been developed.
However, this situation changed when Matthew Mikosz, President of Partial Hand Solutions, began visualizing an idea for a prosthetic finger device. Dubbed "M-Fingers," Mikosz built the prototype in his basement, and with material development assistance from RTP Company, has been able to bring his concept to life.
"I wanted to develop something that hadn't been developed yet," explained Mikosz. "This area of prosthetics has gone untouched for many years, and with so many soldiers coming home with hand and finger injuries, I saw an opportunity to really give back to veterans who had lost something."
"My main goal in developing M-Fingers was to provide the most functional prosthesis on the market for someone missing their fingers," said Mikosz. "For the most part, I wanted our product to both feel and operate as naturally as possible for recipients."
M-Fingers use an RTP 2300 Series glass-filled rigid thermoplastic polyurethane for the inner structure of the fingers and multi-position thumb, which are then overmolded with an RTP 1200 Series thermoplastic polyurethane elastomer. The elastomer provides each finger with dexterity to independently and gently conform to whatever it grasps, while the rigid polyurethane material provides the product with excellent strength and dimensional stability.
Chris Budnick, General Manager at Vanguard Plastics, was also heavily involved with the development of M-Fingers. "With so many of these M-Fingers being used by soldiers in rehabilitation, it was very important that RTP Company's materials provide both structural stability and, at the same time, the ability to move and operate the prosthesis smoothly."
The mechanical fingers of the device are actuated by wrist flexions and even include molded-in fingernails for picking up small objects such as coins. "I have been very pleased with the outcome we've achieved," said Mikosz. "RTP Company provided great materials, and we've had very positive feedback from our customers."
"Matthew is a terrific person with a lot of vision," added Budnick. "There's a definite emotional connection associated with this product, and I think RTP Company understood that. They were very responsive during the entire process, really bringing their plastics knowledge and expertise to the table, and it shows. The M-Fingers design is absolutely amazing."
M-Fingers are distributed by Liberating Technologies of Holliston, MA. For more information, please visit www.liberatingtech.com. Molding of components was performed by Vanguard Plastics Corp. of Southington, CT. For more information, please visit www.vanguardplastics.com.