Wear Resistant Compound Improves Performance of World's Fastest Bike Pump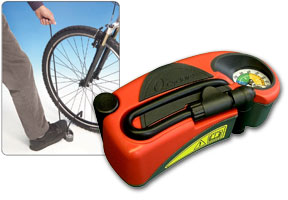 During "The Big Idea" TV show, Julian Peck captivated the audience with a persuasive demonstration proving that his revolutionary Cyclaire pumping technology made it possible to achieve big performance from a very compact bicycle pump. In turn, they voted Peck the winner for best British invention.
What the viewers could not see during the TV show was the technology inside the Cyclaire pump, which includes an innovative bearing made with a robust wear resistant compound from RTP Company.
The main bearing is a central part of the pull-cord system that includes a strap winding around a pulley, which drives the main shaft. Initially, friction between the bearing and the die-cast zinc shaft was causing the components to wear out too quickly.
"We originally used conventional materials, and those materials failed," said Peck. "Without the bearing, the pump doesn't work. That's why I contacted RTP Company. They were extremely helpful and made the development process very, very simple."
A custom RTP 200 Series nylon compound with aramid fiber and polytetrafluoroethylene (PTFE) solved the problem. Aramid fiber increased wear resistance with minimal counter surface abrasion, while PTFE provided friction reduction by facilitating internal lubrication and a higher dynamic load-bearing capability. In combination, these two additives decreased the friction coefficients and greatly reduced wear rates.
"RTP Company found the right solution for our product," said Peck. "We have had no problems since. In fact, the bearing is also in the Cyclaire Rapid, which is the fastest mini-pump in the world, and will be specified again in the Cypod, which will be both the smallest and the fastest mini-pump in the world."
Cyclaire, invented and developed by Innoverce Products, is the brand name for products incorporating the unique pull-cord system of Cyclaire technology. Cyclaire pumps are available direct from www.cyclaire.com.