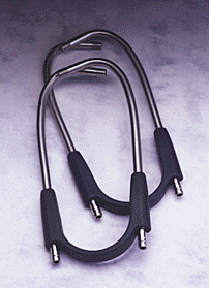 Alliance-Carolina Tool & Mold in Arden, NC turned to RTP Company when material from other suppliers failed in a medical application.
The application, stethoscopes made by Welch Allyn/Tycos Inc., feature a variety of colors for the injection-molded components. The precolored materials originally used bled color onto uniforms of medical staff.
RTP Company colorists and Alliance-Carolina technicians worked to determine resin and pigment system alternatives. A precolored RTP 1500 Series (co-polyether-ester thermoplastic elastomer) meets all physical and aesthetic requirements for the project.
"Traditional physical testing is done on the material," says Steve Schneider, Alliance-Carolina materials manager. "In addition, the finished parts are submerged in alcohol for 24 hours to ensure the colors don't bleed. The RTP Company compound holds up well."
Since the stethoscopes are routinely cleaned with alcohol, an inorganic pigment system is required for all colors. Within a week of the initial request, RTP Company colorists had color samples to Alliance-Caroline for testing. Less than a month later, the parts were in production using the RTP Company specialty compound.
"The material achieves the needed characteristics," explains Schneider. "In addition, the previous materials resulted in scrap rates near 30 percent. The new material has reduced that rate to less than 10 percent. We are real pleased with those results."
The Harvey ELITE stethoscopes are available in several colors to coordinate with medical staff uniforms. The lightweight instruments are engineered for acoustical excellence and physical durability. Standard accessories for the stethoscopes include pediatric bell and diaphragm chest pieces at no additional cost.