End-Use Case Study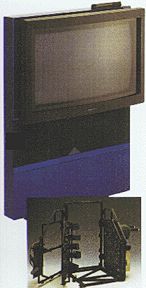 The unique design of the Bang & Olufsen BeoVision Avant integrated television places high demands on its structural components. In particular, the interior chassis, which holds various circuit boards and components, requires multiple physical characteristics.
The chassis, a single molded part, features eight living hinges which dictate the use of a polypropylene-based compound.
Equally important, the application must be flame retardant (within the new Bang & Olufsen standard) and have ample stiffness for snap-fit connections. The connections must be made without the use of tools and/or special fittings.
RTP Company Research and Development and its Scandinavian distributor, MBS Plastics, worked closely with designers from Bang & Olufsen to determine specific material requirements.
The resulting compound, RTP 151, exhibits UL 94 V0 at 1.6 mm. In order to comply with environmental concerns in Europe, the material does not contain the chemicals PBBO, PBBE or antimonytrioxide. The flame retardant used is a non-halogenated system which forms an intumescent char when exposed to flame.
The test procedure for the living hinges cycles them 100 times through 2400 of arc. The hinges are used infrequently during the product's life for component replacement or repair.
Bang & Olufsen, located in Struer, Denmark, is recognized worldwide for innovative video and audio equipment. The shape and internal configuration of their products require intelligent use of new technologies and materials. The BeoVision Avant is capable of operating a BeoLink System. BeoLink unifies a household's video and audio system. The system provides linked access to all components.