End-Use Case Study
Application is an Open and Shut Case for PEEK™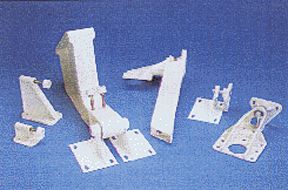 An RTP Company glass fiber-reinforced PEEK™ compound is specified for the hinge bracket assemblies of overhead storage compartments in Boeing 767 airplanes. RTP 2299x52810C is used in nine different components of the assembly.
PEEK™'s superior flame retardancy is mandatory for cabin interior parts (this material meets or exceeds the stringent 1990 FAA standards for OSU that release smoke and toxicity). The custom compound requirements include excellent dimensional stability, toughness and strength to withstand the abuse that overhead stow bins receive.
PEEK™ is naturally a dark brown color and RTP Company is the only material supplier to achieve a specified white critical color match.
Plasthec Molding, Inc. of Ontario, California is the custom molder.