End-Use Case Study
Specialty Compound Dissipates Static, Stays Tough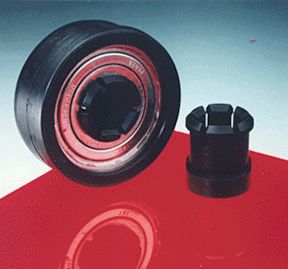 Conveyor systems frequently generate static electricity.
Depending on the specific use, the buildup of static can cause mobility problems or even damage the materials in transit. Static electricity develops through motion. A common area for static electricity to generate from is ball bearings.
Rapistan Demag Corp. of Grand Rapids, MI specializes in developing conveyor systems for industrial environments, including airports, assembly plants and warehouses. Overcoming obstacles including static electricity is their specialty.
Rapistan Demag resolved the problem by utilizing over-molding technology for the bearing's exterior. A snap-fit insert made of the same static dissipating material provides additional protection.
The parts are molded under strict quality standards by Lakeshore Diversified Products in Spring Lake, MI. Lakeshore specializes in close tolerance and over-molded applications.
The RTP 200 Series (nylon 6/6, high impact) material achieves a static decay of less than 2 seconds (based on Mil B-81705C). The material's physical performance is equally important, as it achieves an un-notched impact strength of up to 30 ft. lbs./in at 1/8 in thick and a flexural modulus of 380,000 psi.