End-Use Case Study
Lubricated acetal compound triples part strength
Silicone and PTFE additives minimize cable abrasion
Compatible with wide range of temperatures and humidity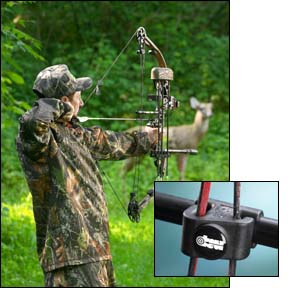 The sport of archery is nearly as old as man himself and since the first ancient strung an arrow, archers have continuously looked for new technology to improve their aim. This quest has taken another step forward with New Archery Products' CarbonGlide™ cable guide, which not only improves accuracy, but also provides an increased and dependable measure of safety.
Fletching, the traditional feathers on the end of an arrow that stabilize flight, often contacts the arrowrest as the arrow is shot. At the speeds produced by modern compound bows, any contact can alter arrow trajectory. To eliminate this risk, arrowrests such as the New Archery Products' Quicktune® drop-away are designed to activate on bowstring draw and drop from the flight path upon release. The cable guide maintains the path of the high-tension cables. When drawn, two bowstring cables speed through the guide in opposite directions; a third cable activates the rest. Upon release, the cables speed back through the guide to their stops; the third cable deactivates the rest, moving it safely out of the way. Ultimately, the cables travel three inches in eight milliseconds.
According to Bob Mizek, New Archery Products' manager of new product development, a paramount concern in the cable guide is wear. The guide must perform as designed without abrading the high-tension cables. Broken cables under tension can cause serious injury. Competitive products have been machined from solid PTFE, yielding low friction, but also low part strength. Others were made of reinforced nylon, strong but relatively abrasive. Mizek looked to RTP Company to formulate a custom compound, an RTP 800 Series PTFE and silicone lubricated acetal compound.
"Originally, we tried nylon 6/6 compounded with some fairly high loadings of PTFE; friction was acceptably low, but strength suffered," said Mizek. "Further," he added, "early field trials showed that high humidity combined with nylon 6/6's hygroscopic nature noticeably reduced its wear resistant properties." According to Mizek, the RTP Company acetal compound offers strength values "three times that of the previous material and has undergone 1000's of cycles in all weather conditions without sacrificing its low friction characteristics." Expected use temperatures range from 110 to -15 degrees F (43 to -5 degrees C).
Mizek credits RTP Company for "real skill in tailoring a material to an application-addressing each property and formulating the proper solution." He notes that the greatest test has been passed in the hands of archers; slick, quick, quiet, and "smooooth" have been common reviews.
New Archery Products manufactures and distributes fine archery accessories from their headquarters in Forest Park, IL. For more information visit their website at www.newarchery.com