End-Use Case Study
Plastics Make Pumps Strong, Light… And Explosion Resistant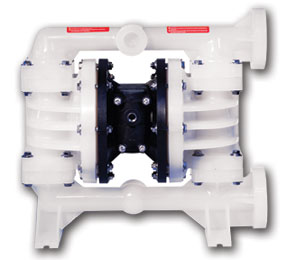 As a leading manufacturer of air-operated diaphragm (AOD) pumps, All-Flo Pumps has been an innovator in the use of new materials. Traditionally, fluid handling pump designs favored metals, but many end-users demand non-metallic materials that better resist corrosion from harsh chemicals or reduced weight for portability.
"All-Flo was a pioneer in the use of non-metallic materials," according to Paul McGarry, All-Flo's Sales and Marketing Manager, "Plastic materials provided benefits our customers needed that we simply could not otherwise obtain."
Even in All-Flo's traditional metal pump line the designs often combine alternative materials. "Our customers often insist on the air section being non-metallic," said McGarry. "Using glass fiber reinforced polypropylene compounds from RTP Company has afforded us considerable weight savings, while providing a stronger degree of resistance to atmospheric corrosion."
Products such as All-Flo's 1-inch (25 mm) polypropylene AOD pump are the equipment of choice in mining operations because of their complete non-metallic construction. "Miners have to carry equipment down in tight elevators or often walk it from hole to hole; they tell us they really appreciate the weight difference our pumps deliver," said McGarry.
Safety standards can vary from country to country and some companies have their own safety standards that are stricter than regulations require. While many of All-Flo's pumps can meet ATEX Directive requirements for being safe to operate in potentially explosive environments, they were recently challenged by a customer to construct an entire pump with conductive, but non-metallic materials.
They didn't have to go very far to find a solution. "Our engineers always say that 'if you need specialized materials, RTP Company is the one to talk to,'" McGarry said.
RTP Company's material experts set out to meet the challenge, working in partnership with All-Flo engineers and their injection molder, Royal Plastics of Mentor, OH. A number of candidate materials were trialed at the molder for evaluation testing.
Ultimately, the successful material chosen was a variation of the proven RTP 100 Series glass fiber reinforced polypropylene compound All-Flo already used. The addition of carbon powder provided conductive properties to meet the very specific and stringent customer requirements.
"Not only did RTP Company provide a conductive material that had the properties and met the requirements, it had the same processability and worked with our existing molds," said McGarry. "For our molder, Royal Plastics, it's really just a matter of switching out materials for us to produce a specialized version of our 1-inch polypropylene pump."
All-Flo Pump Company is a leading manufacturer of rugged diaphragm pumps and is a division of MUM Industries, Inc. located in Mentor, OH. For more information visit their website at www.all-flo.com.
Royal Plastics, Inc., based in Mentor, OH, is a full-service injection molder and contract manufacturer with worldwide operations. For more information visit their website at www.royalplastics.com.