End-Use Case Study
Components Pass 3 Million Cycle Test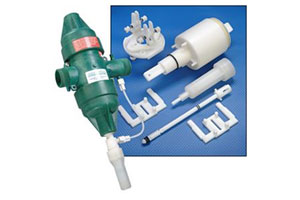 A chemical feed pump molded by Diemold Machine, Fort Myers, Florida, contains several internal components made of an RTP 100 Series polypropylene compound containing Fluoroguard®. The water-powered pump is used to dispense fertilizers, disinfectants, chlorine, acids, soaps, pharmaceuticals, and nutritional supplements in a wide range of settings.
As engineers at Diemold designed the pump components, they considered alternatives such as bearings in the rotating parts and plastic bearings with PTFE (Teflon®) fillers. "Our partner in the molding portion of our business suggested we look at a new type of compound with Fluoroguard," said Don Bryant, Engineer at Diemold. "RTP Company was the obvious choice, and they developed the right formulation. In fact, we designed the mold just for this material."
Compounds with Fluoroguard improve wear resistance and reduce the coefficient of friction in moving components. Not only does the compound wear well against itself, but also against the stainless steel and rubber surfaces present inside the pump. Life cycle testing on the assembly exceeded 3 million cycles without significant wear.
Compared to wear-resistant compounds with PTFE, these materials require loadings of just 0.1% to 1.0%, so they have little to no effect on physical properties (including specific gravity). They also eliminate "plate-out" and reduce material and processing costs. Choosing polypropylene as the base resin gives the pump excellent corrosion and chemical resistance in its diverse and harsh environment. In addition, it provides a more cost-effective design solution by eliminating the need for separate metal or plastic bearings. The pump housing is glass-filled polypropylene, so the only metal in the entire assembly is found in the stainless steel shafts.
"The average lifespan of this type of pump is just over two years," explained Bryant. "By moving to an all-plastic pump, we not only reduce corrosion from all these chemicals, but we allow our customers to completely rebuild it by replacing the modular components. They can extend the life of their pump and save money in the long run."
Diemold International, Inc., specializes in rugged, reliable water-powered chemical feed pumps for industrial, residential, and agricultural uses. Contact them at (877) 428-6799 or visit their website at hydrogator.com. Diemold Machine is a custom injection molder. Contact them at (941) 482-1400.
Fluoroguard® is a registered trademark of DuPont
Teflon® is a registered trademark of DuPont