End-Use Case Study
Thermoplastic polyimide offers elevated temperature performance
Low frictional properties enchanced by aramid fiber and PTFE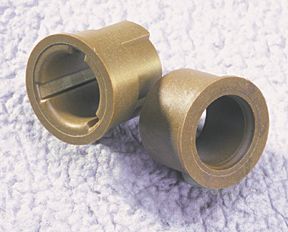 In early 1997, a Xerox team was formed to identify a bushing material that extends design life, prevents customer dissatisfaction, and eliminates excessive service costs for a Xerox copier line. The diversified team of engineers and specialists from Xerox and molder Putnam Precision Molding, Inc., ended with an award-winning conclusion: An RTP 4200 Series thermoplastic polyimide specialty compound made with Aurum® Thermoplastic Polyimide Resin.
RTP Company consulted with the team and developed a compound that is reinforced with aramid fiber and PTFE. Samples were delivered quickly, and thanks to a unique "activation energy" test developed for this project, the time to market was reduced to 6 months. "Otherwise, the material would have to be in the field for 12-15 months before we could predict performance," explained Fred Mooers, Vice President of Sales & Marketing at Putnam.
Other thermoset and engineering resins with PTFE were shown to be poor candidates due to a combination of thermal degradation, high compression load, and wear against aluminum. The RTP 4200 Series compound passed the unique life tests, which are a function of time and temperature versus breaking strength. "Our actual field data now supports the test results with a high level of confidence," stated Eke Okeke, Technical Project Manager at Xerox.
The bushings insulate both ends of an aluminum journal that generates heat up to 500 degrees F. The compound's low thermal conductivity and low frictional properties reduce heat transfer between the aluminum and a ball bearing on the front. They also insulate and support interlock with a drive gear mechanism on the back. The material performs well in an environment of paper dust, toner, and oil.
Putnam Precision Molding, Inc., a subsidiary of Ensinger Industries, is located in Putnam, CT. Contact them at (860) 928-7911. Xerox Corporation's team was formed at their Rochester, New York, facility. Contact them at (716) 422-7416.