End-Use Case Study
Static Dissipative Compound Provides Safety in Explosive Environments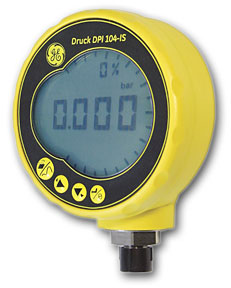 Keeping workers safe by preventing accidents in environments with potentially explosive atmospheres is absolutely critical.
Even seemingly simple devices, like pressure gauges used to measure fluids or gases, have to meet static dissipation standards established by the European ATEX Directive. These regulations ensure the gauges will not be a source of ignition for flammable fumes or media being monitored.
GE Sensing & Inspection Technologies worked with RTP Company to find the best static dissipative compound for its intrinsically safe DPI 104-IS microprocessor-controlled digital pressure gauge exterior housing. Requirements for the device included ESD protection to meet ATEX compliance regulations, good impact strength, and colorability for brand identification.
A PermaStat PLUS® 2500 Series static dissipative PC/ABS compound precolored bright yellow was recommended. PC/ABS alloys exhibit excellent impact strength, and their easy processability provides a smooth surface finish.
RTP Company's PermaStat PLUS® materials meet ATEX Directive and IECEx Scheme static dissipation requirements with a surface resistivity of 107 to 108 ohm. All PermaStat® grades from RTP Company are capable of providing permanent static protection at all humidity levels and are fully colorable because of their all-polymeric chemistry.
According to Jim Henke, Global Product Manager at GE Sensing & Inspection, "Using the RTP Company compound allowed our gauge to comply with the ATEX standards for equipment that's used in potentially explosive environments. In addition to providing necessary ESD protection, the material gives us the impact strength we need for rugged industrial use and a custom yellow color consistent with our existing product line."
GE Sensing & Inspection's DPI 104-IS is a simple-to-use digital pressure gauge with a large, easy-to-read display. It can be used for both process monitoring and testing and calibration applications.
When used for process monitoring, explained Henke, the medium might be a gas (air, nitrogen, or propane), a liquid (LNG, heating oil, or machine oil), or virtually anything conveyed or stored under pressure. "In process applications," said Henke, "our gauge is typically mounted directly to a pipeline or storage vessel."
When used for testing and calibration, the pressure gauge is used as a portable device in conjunction with a hand pump to calibrate dial or mechanical gauges and pressure switches. "The DPI 104-IS is the only gauge of its kind available in pressure ranges up to 20,000 psi (1,400 bar)," added Henke.
GE Sensing & Inspection Technologies is a leading innovator in advanced measurement, sensor-based and inspection solutions that deliver accuracy, productivity, and safety to its customer. For more information visit www.gesensinginspection.com.