End-Use Case Study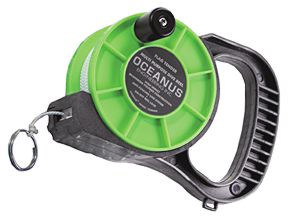 The multipurpose dive reel and flag tender from Oceanus Engineering gives divers a "reel deal" when it comes to trustworthy dive line deployment. The revolutionary reel abandons heavy stainless steel in favor of a non-corrosive, reinforced polypropylene compound from RTP Company.
"Divers must be certain their equipment is reliable," said Ron Fundak, General Manager of Oceanus Engineering, Inc. "They place complete trust in these lines to find their way out of caves and wrecks. Using plastic maintains strength and helps us incorporate features that would otherwise be impossible or too costly to fabricate in metal."
The handle is ergonomically designed for a comfortable grip, with ridges that prevent slipping. Inserted line wipers prevent backup and add tension for snag-free operation. "Injection molding gives us tremendous design freedom and allows us to retail the unit for less than half the cost of traditional reels," continued Fundak.
The compound's specific gravity of 1.02 makes the reel neutrally buoyant, weighing virtually nothing underwater. Even with slight water displacement, metal reels carry the same weight in water as they do in air.
"We've conducted strength tests which confirm that the Oceanus reel outperforms even the most expensive technical reels," remarked Bob Daigle, owner of molder Daigle Tool & Die. The RTP 100 Series polypropylene compound delivers tensile strength of 7000 psi (48 MPa) and flexural strength of 10,500 psi (72 MPa).
The polypropylene compound is paired with a neon-colored ABS reel. Together, the materials have excellent bearing properties. "They're almost frictionless," said Daigle. "We had to add spring washers to give us some friction and keep the line from feeding by itself."
For distributor and technical information, contact Oceanus Engineering, Inc., Pompano Beach, Florida, (954) 785-5739. For wholesale sales, contact their distributor, A-Plus Marketing at (800) 352-2360 or www.aplusmarine.com. Molder Daigle Tool & Die is also in Pompano Beach. Contact them at (954) 785-9989.