End-Use Case Study
Two-step Mold For Superior Bondability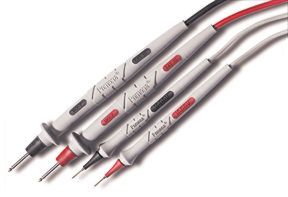 When Pomona Electronics designed its digital Multimeter Probe that helps electrical and electronic technicians diagnose and troubleshoot circuitry and other test points, it called on engineers at RTP Company. "The Probe is manufactured with a two-step molding process," explains Ron Harmon, Design Engineer at Pomona. "We needed a combination of materials that could provide both excellent bondability and easy processing."
The first-step material for the inner mold is an RTP 100 Series polypropylene specialty compound with a UL flammability rating of V-2 at 1/32 in (0.79 mm). This compound offers excellent moldability and non-corrosive characteristics.
The second-step overmold material is an RTP 2800 Series precolored polyolefin thermoplastic elastomer. The elastomer bonds well with polypropylene and gives the probe a soft-touch, non-slip grip.
RTP Company's color specialists in the Dayton, Nevada, plant met critical color matches for both materials. The polypropylene compound is precolored in red or black and paired with a light or dark gray elastomer. In addition, the company recently introduced connectors that feature RTP Company compounds in blue and yellow.
Short molding runs and frequent material changes are a way of life at Pomona Electronics. "We appreciate the convenience of ordering precolored compounds in lots as small as 50 to 100 pounds, and we count on RTP for consistency and accurate color matches," continued Harmon. "When we open the bags, we always know what to expect."
Pomona Electronics, a division of Fluke Corporation, manufactures accessories for test and measurement equipment. Contact them in Pomona, California, at (909) 623-3463 or visit their website at www.pomonaelectronics.com.