End-Use Case Study
Inorganic (silver-based) antimicrobial effective in food contact and biocompatible applications
PTFE and silicone synergistically reduce friction
Acetal offers inherent lubricity and resistance to cleaning solutions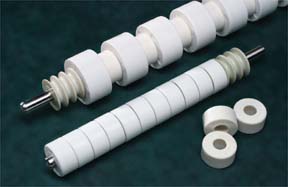 Warnings about food contamination have been making headlines more and more frequently. Outbreaks of food-borne illnesses have resulted in recalls, costing manufacturers and distributors lost revenue. Reducing the potential for contamination during food processing often requires multifaceted approaches to ensure cleanliness.
As a veteran supplier of conveyors and handling equipment to food processors, Shuttleworth, Inc. is well attuned to their customers' challenges. Shuttleworth recognized a pressing need for equipment that would reduce costs and provide a higher degree of sanitation when a proper cleaning regimen is followed. In response, they developed a new line of Easy Clean™ conveyors that incorporate thermoplastic rollers, featuring a custom compounded antimicrobial additive.
Shuttleworth designed the Easy Clean conveyor line with a stainless steel frame that has no horizontal surfaces. This design reduces debris accumulation and has "user friendly" removable parts. These features allow quicker cleaning in less time. Another cleanliness measure comes from the use of a familiar material—silver. Supplied by AgION Technologies, the silver is an inorganic additive that functions as an antimicrobial to inhibit microbic growth on the roller surface. RTP Company combines the additive along with exact loadings of both PTFE and silicone into an acetal co-polymer, resulting in an RTP 800 Series custom compound. Combined, these additives perform synergistically to achieve improved lubricity properties and reduce wear.
A recent study performed at Purdue University acknowledged the mold, mildew, and fungus inhibiting properties of the rollers and confirmed that, when properly cleaned, "the Easy Clean conveyor would not be a source of contamination to food products." The study showed that the conveyor was able to "reduce cleaning costs and provide increased resistance to fungi and mold propagation." Klaus Daenzer, Shuttleworth's Senior Plastics Engineer, said, "We found an effective and proven antimicrobial that provides our customers with additional security, lower sanitation costs, and maintains the lowest line drive pressure in the industry." The AgION compound molded into Shuttleworth's conveyor components is approved for food contact by the EPA and is FDA recognized as safe.
Initially, the antimicrobial was formulated into an HDPE resin. Sink marks were prevalent, and dimensional control was insufficient for the tight tolerances of the rollers. Shuttleworth and RTP Company engineers worked together to find the optimum resin system and additive combination in an RTP 800 Series acetal compound. Daenzer added, "Our experience with RTP Company made them the logical partner to formulate the material, and we now have an exceptional product for this industry. Shuttleworth recognized a customer need and RTP Company helped achieve the solution."
Shuttleworth, Inc. of Huntington, IN manufactures material handling and process equipment for a wide range of industries. For more information visit their website at www.shuttleworth.com.