End-Use Case Study
Glass reinforced nylon 6/6 minimizes the flexing of gear teeth
Internal lubricant minimizes noise and gear face wear during startup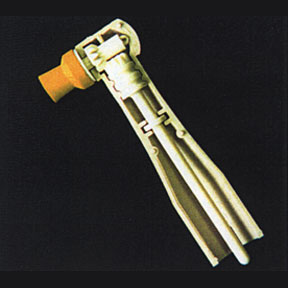 Teledyne Water Pik of Ft. Collins, Colo. and RTP Company are ensuring proper dental hygiene. Water Pik, a manufacturer of personal and professional dental care products, uses an RTP Company specialty compound in their disposable Prophy Angle tooth polishing device.
A precolored, glass filled and lubricated RTP 200 Series nylon 6/6 is used for the dental tool's bevel gears. The moldability of the material is critical, as the gear diameter is 0.2 inch. The gears operate at about 1500 rpm.
The addition of glass fiber improves the stiffness of nylon 6/6, ensuring gear teeth do not flex under normal input torque. The 90 bend in the device makes frictional forces a major concern, as significant slippage occurs during initial gear mesh. The addition of a lubricant minimizes gear face wear during start-up.