End-Use Case Study
Compound gives golf club the right feel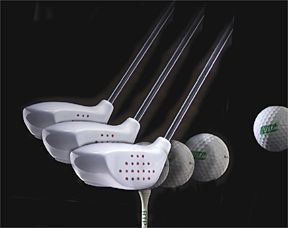 When GRC (General Ribbon Corporation) wanted to start making golf club heads, they knew they would need a specialty compound. They contacted RTP Company and got exactly what they expected to make their project work.
"We needed someone to work with us in coming up with the right material. GRC had done business with RTP Company on other projects and we felt that they would be a good fit," commented Lary Walendy, Manager of Molding and Tooling.
"We needed a material that was very hard, and very tough. It needed to be chemical resistant, and be free of weld lines." Walendy explained, "We powder coat the heads, so conductivity was important as well, but also very important, was the resonance. You have to hear and feel the right click when the club hits the ball."
"The qualities we were looking for in this application are not shown on a data sheet. Selection has to be done by trial and error. There is no particular place (on a data sheet) that says 'good for golf club heads' when you need to pick out material," added Walendy.
"There have been a lot of materials tried for club heads. Nylon seems to fit most of the necessary properties, but does not make the right sound. Polycarbonate tends to stress crack and fall apart when it comes in contact with fertilizer," explained Walendy. GRC needed something better and RTP Company created exactly that material.
The material selected was an RTP 4000 Series, carbon fiber reinforced polyphthalamide. The compound features an unnotched impact strength of 13.5 ft lbs/in @ 1/8 inch (721 J/m @ 3.18 mm) and a volume resistivity of <101 ohm-cm. "The engineers at RTP Company suggested the material. We tested it and made suggestions until we got it right," stated Walendy.
RTP Company's proactive Technical Service team also got involved in the design of the mold to optimize processing. "Our molded part has sections that range from 0.03 inches to 0.60 inches thick. They helped us with getting the mold to fill evenly and helped us eliminate weld lines and voids. Everyone at RTP Company was great to work with," concluded Walendy.
For more information on RTP Company specialty compounds call (507) 454-6900 or (800) 433-4787.
General Ribbon Corporation (GRC) is located in Chatsworth, CA. They specialize in products ranging from printer cartridges to golf clubs. Visit their website at www.printgrc.com.