End-Use Case Study
Multiple Thermoplastic Materials Selected for Insulin Management System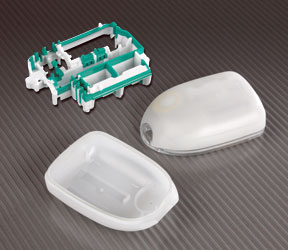 More than 194 million people worldwide have diabetes, and the World Health Organization expects the number of cases to reach 366 million by the year 2030.
Diabetes is a chronic, life-threatening disease characterized by the failure of the body to produce or properly utilize insulin, a hormone that regulates blood glucose.
One highly effective method of treating Type I diabetes is Continuous Subcutaneous Insulin Infusion (CSII). However, with conventional insulin pump technology, CSII therapy is complicated, costly, and inconvenient.
Insulet Corporation, a leading diabetes management company, has designed the OmniPod® Insulin Management System. This innovative product breaks down the barriers to CSII therapy by continuously delivering insulin without the tubing that "tethers" a traditional insulin pump device to a user. The system also eliminates the need for repeated insulin injections for those individuals who manage their diabetes with daily insulin injections.
Through its innovative design, OmniPod improves the lives of diabetic patients and makes diabetes a smaller part of their lives. A key part of this design is advanced thermoplastic materials from RTP Company.
"Several of the OmniPod System parts were particularly challenging," said Dave Clare, Project Manager at Insulet. "Fortunately, RTP Company quickly provided viable options which we further customized."
The housing necessitated specific mechanical properties and a balance between opacity and clarity. It needed a strong bond to a thermoplastic elastomer (TPE) seal with an exacting color match. In addition, the platable compound used in the chassis had complex molding requirements due to a very narrow processing window.
For the top housing, an RTP 300 Series polycarbonate compound utilizing FDA compliant ingredients and light diffusing technology was specified. This housing is precolored white and is the first part of a two-shot injection molding process that also incorporates a precolored RTP 6002 Series TPE, which functions as the component's gasket for an environmental seal.
"One reason we selected an RTP Company TPE for the perimeter seal is that we needed an exact color match to the housing so they appear as one part," said Clare. "Also, the OmniPod has no mechanical interlocks, so it is imperative that the TPE for the integrated second shot bonds well to the substrate. If the adhesion is bad, we don't have a seal."
The RTP 6002 met both the color and bondability requirements. The OmniPod can withstand 8 feet of water for 30 minutes, making it watertight.
An RTP 2500 Series platable PC/ABS was compounded for the OmniPod chassis that improved strength while simultaneously addressing processing issues. "We had challenges plating the chassis, which was a second shot to the lower housing without overstating the first shot," said Clare. "RTP Company's compound gave us better control of the plating process by providing a wider processing window. This ability to tailor materials ideally suited to our needs is what will help make the OmniPod successful."
And the OmniPod has been successful with Insulet receiving multiple awards, such as the 2006 Medical Design Excellence Award. This award, given by Canon Communications LLC, honored the OmniPod design team for using innovative design and materials to overcome a number of technological challenges. As a result, diabetics can now live their lives with no strings attached.
Insulet Corporation is an innovative diabetes management company dedicated to providing superior treatment options and lifelong health benefits to people with diabetes through innovative design and technology. www.insulet.com