End-Use Case Study
Long Fiber Block Side Plates Bear the Load Without Stainless Steel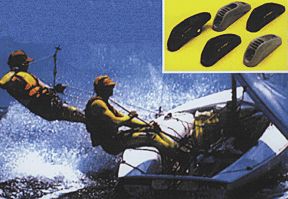 Ronstan of Victoria, Australia and RTP Company teamed-up to meet the demanding material requirements for various cam cleat systems used in marine and industrial settings.
The cam cleats, available in a variety of configurations, require excellent structural properties along with chemical, UV and wear resistance.
"These parts are subjected to very high tensile, shearing and rubbing loads," says Chris Wilkes, Ronstan production engineer. "RTP Company and Ronstan worked closely to develop specialty compounds based on severe application requirements. The materials provide all the needed properties and perform extremely well in the field."
Ronstan developed an innovative V-Cleat with strength, wear resistance and light weight as objectives. One of the challenges was extremely precise molding, adding consistent processability to the list of material requirements. Two RTP Company materials are used in the Ronstan V-Cleats.
A RTP 200 Series (nylon 6/6) glass-reinforced specialty compound is used in various sizes of the open and fairhead V-Cleats. The material achieves a flexural strength of 42,000 psi and a tensile strength of 30,000 psi. The compound exhibits a notched impact strength of 3 ft lbs/inch in1/8- inch and a flexural modulus of 1.8 x 106 psi.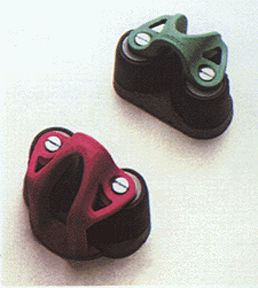 The second material, an RTP 4000 Series (polyphthalamide) compound, is used in the trapeze/exit block V-Cleats. This material achieves a tensile strength of 32,000 psi and flexural strength of 45,000 psi. The compound exhibits a notched impact strength of 4 ft lb/in at 1/8-inch and a flexural modulus of 2.5 x 106 psi.
Another Ronstan project using RTP Company materials is the C-Cleat program. These self-cleaning, self-lubricating cleats feature ribbed bearings in place of traditional ball bearings.
The C-Cleat design alleviates the buildup of grit and salt, improving performance and life span compared to ball-bearing versions. These cleats are made from RTP 2100 (polyetherimide) and RTP 200 (nylon 6/6) compounds. The C-Cleats hold rope loads up to 1,000 lbs.
Ronstan designs, manufactures and distributes numerous products for the sailing, aviation and industrial applications. Started in 1953, the company is wholly Australian owned.