End-Use Case Study
Anti-Microbial Specialty Compounds Make Mouthguard Safer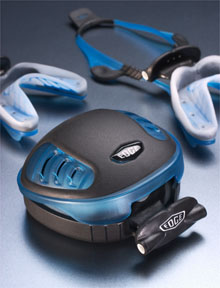 Imagine a sports mouthguard that not only protects teeth and reduces the risk of concussion, it inhibits microbes and makes a fashion statement while at the same time actually improving the wearer's athletic performance! The Edge Sports division of Bite Tech, Inc. has achieved all of this in their new line of Edge Protection™ mouthguards.
Careful mouthpiece design, says Bill Cook, V.P. of Operations, positions the user's jaw more naturally than traditional models and results in less nerve compression and increased blood flow. Tests reveal that about 80% of people benefit from a performance-improving surge of up to 20% when the jaw is properly positioned.
The Edge Protection design makes use of multiple layers of differing customized materials adhered through overmolding and engineered for optimum impact energy absorption. Additional features include an impenetrable biteplate, an improved fit for extended wear comfort and a smart, hygienic carrying case. According to Cook, "RTP Company was willing to provide us with both the engineering and customer support necessary to develop truly custom materials. Their willingness and engineering skills helped us go from a revolutionary, but raw, idea to a unique and viable finished product." During development, Edge Sports worked with RTP Company to solve issues involving adhesion of dissimilar materials, specific hardness durometers, specialized colors, FDA compliance, and anti-microbial properties.
When not in use, the mouthguard is stored in a matching case made of an RTP 600 Series acrylonitrile butadiene styrene (ABS) compound, selected for impact resistance and ease of processing. Custom-colored in a cool and sporty translucent blue, the material includes a FDA compliant anti-microbial additive that inhibits the growth of microbes, offering an added measure of protection for the wearer. Complementing function with form, the case is overmolded with an RTP 2000 E Series custom thermoplastic elastomer, providing additional impact protection and an appealing, soft touch grip. The elastomer features a 55 Shore A durometer hardness to achieve the ideal feel. And, to enhance adhesion between the two materials, RTP Company modified the compound's chemistry for optimum bonding to the ABS substrate.
Cook credited RTP Company engineers for providing quick solutions throughout development. "When we added the requirement for anti-microbial properties, RTP Company provided a product that met our requirements. However, the additive caused unacceptable discoloration during molding. RTP Company quickly found another supplier, formulated another product and provided us with the material we ultimately approved. But more impressively, RTP Company continued working with the original additive supplier to solve the discoloration problem and has provided us, essentially, with two qualified sources," said Cook.
Edge Sports, Inc. is a division of BiteTech, Inc. and manufactures both Edge Performance™ and Edge Protection™ athletic mouthguards. For more information, visit their website at www.edgesportsinc.com.