End-Use Case Study
Polypropylene shaft balances stiffness with pliancy
Purple-colored ABS handle complements ergonomic design
Gamma sterilization resistant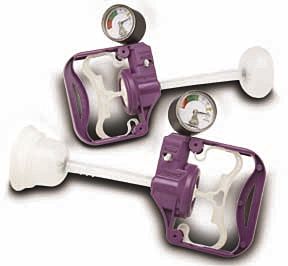 It's never been suggested that labor and delivery are easy. Nor has childbirth ever been seen as completely safe; inherent risks exist for both mother and child. Through the ages, medical technology has evolved to deal with birthing complications and to reduce risks for both patients. One simple but effective development was the use of forceps to assist in extracting the fetus, speeding delivery and reducing the duration of dangerous stress. At times, however, the use of forceps presented more problems—fetal deformation and maternal tissue damage.
Prism Enterprises LP, of San Antonio, TX, helped pioneer vacuum-assisted delivery systems that minimize the negative effects sometimes seen in forceps-assisted deliveries. Their products employ a flexible shaft that allows precise positioning of a flexible suction cup on the baby's head. Pumps then generate negative pressure to allow the clinician to gently pull and assist with maternal efforts during vaginal operative deliveries. According to Frances Menard, Prism's Director of Marketing for Labor and Delivery, "The benefits are numerous: less damage occurs to maternal tissues, caesarian incisions can be smaller and delivery times may be accelerated."
Prism's latest offering is the MityOne™, a one-piece integrated unit. Previously, vacuum technology was a two-person operation; typically, a physician placed the extraction device and a nurse controlled the pump. Not only did this approach require two medical personnel, it demanded exacting teamwork and precise communication during a sometimes frenzied event. The MityOne™ eliminates that need, providing full control to a single operator. To develop the product, Prism worked with RTP Company to select thermoplastic materials that could be successfully incorporated into their product.
As the pump is sterilized prior to use, the materials chosen had to be resistant to gamma radiation. A sturdy, colored material was needed for the pump's handle, and the shaft required a precise balance of strength and flexibility. Additionally, healthcare industry quality procedures dictated that the materials be verifiably consistent throughout production.
An RTP 100 Series polypropylene compound was selected for the shaft. With a flexural modulus of 160,000 psi (1102 MPa) and tensile elongation of more than 10%, the material yields what Menard calls "an ideally balanced, semi-rigid part." Tensile strength of 4500 psi (31 MPa) allows the shaft to withstand the pulling forces generated, while the low modulus permits pliancy through a wide positioning range. RTP Company engineers included a stabilization package to enhance radiation resistance.
An RTP 600 Series ABS compound—custom colored and also radiation resistantÑwas chosen for the handle. Notched Izod impact strength of 4.0 ft lbs/in (214 J/m) allows the handle to withstand the rigors of delivery room use. Menard credits the part's rich, purple color as providing "both good visibility for the operator and nice aesthetics; the smooth finish compliments the ergonomic design." Moreover, Menard stressed mechanical performance by saying, "The material and the design function well together. We've not seen one instance of failure and this is an area where failure would be unacceptable."
Prism Enterprises LP of San Antonio, TX, is a leading manufacturer of vacuum- assisted delivery devices for medical professionals. For more information visit their website at www.prismenterprise.com or www.mityvacob.com.