Multi Property Compound Solves Impact Challenge Allowing Product Expansion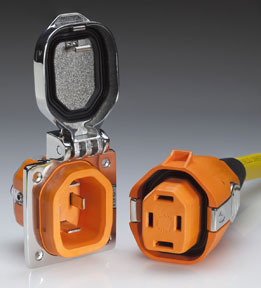 Matt Smith, Vice President of Manufacturing for SmartPlug Systems, describes his family as "lifelong sailors," and recalls being practically "raised onboard a boat." So it wasn't surprising that, as an adult, he joined his father Ken in a business venture rebuilding fire-damaged boats.
"We soon noticed that in almost every case the reason the boat was destroyed came down to the same thing — the poor design of the shore power inlet on the boat," Smith recalled.
His dad knew he could invent a better solution, and, starting with a simple pencil sketch, proceeded to create a smarter plug incorporating every safety and efficiency improvement he could think of.
The result was the "Smart Plug," a superior solution that minimized the tendencies toward loose electrical connections, corrosion, overheating, and other problems inherent to the incumbent product.
SmartPlug's initial 30 amp version found a ready market with boat owners everywhere. Soon they expanded into RV and EMS vehicle markets, helping additional customers who also needed to plug-in to get power from an external source.
But the SmartPlug team faced a daunting challenge. Their original plastics supplier had a difficult time achieving the high levels of flame retardancy and impact resistance that their connector demanded. While the 30 amp product passed stringent regulatory tests, the SmartPlug team was not happy with the extra wall thickness they needed to add to the design.
"We knew that if and when we wanted to expand our line to a larger, heavier 50 amp version, we would need to find a better material solution," said Smith. Fortunately their molder knew of, and recommended, RTP Company.
"We met with RTP Company and immediately thought, 'wow what a difference,'" said Smith. "The other plastics company was basically an order-taker and didn't offer any specific advice. RTP Company, on the other hand, was helpful and knowledgeable and worked to understand our problem. They said they would develop a solution, and they did."
RTP Company's product was a RTP 2000 Series custom PC/PBT (polycarbonate/polybutylene terephthalate) alloy. It incorporated glass fiber reinforcement along with a flame retardant to meet the UL94 V-0 flame rating and a UV stabilizer to achieve the UL746C f1 outdoor suitability rating.
"Not only did RTP Company get us both the strength and flame retardancy we needed for our larger, heavier SmartPlug, but they also did a great job of custom matching our existing vibrant orange color, even with all the modifiers," said Smith. "It's just a superior product, from a superior company."
With the 50 amp product meeting approvals and heading to market, the SmartPlug team is planning to switch their 30 amp connector to the RTP Company material to gain a higher margin of performance. In addition, according to Smith, they have a 100 amp version in the works, and, of course, will go right to RTP Company for a material solution.
SmartPlug Systems of Seattle, WA, provides innovative and safer alternatives for electrical connections within the marine industry and beyond. For more information visit their website at www.smartplug.com.