End-Use Case Study
Enhanced impact strength and stiffness
Meets tight weight specification
PC/PBT alloy reinforced with glass fiber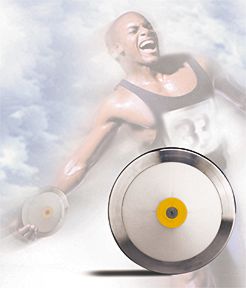 Olympic medalists know one thing for certain—it's hard to win without the right equipment. That's why Danish discus champion Palle Densam of Denfi Sport approached RTP Company two years ago with a singular goal. "I wanted to make a discus that would allow top athletes to achieve the very best results," said Densam. "This requires a material with improved mechanical properties such as impact strength and stiffness."
Although the discus originated in ancient Greece and is the world's oldest piece of sports equipment, there are no modern restrictions on the type of materials used in their construction. Denfi Sport did, however, demand that the material fall within a very narrow weight tolerance of +/- 2 grams.
RTP Company's Nordic distributor, MBS Plastic in Denmark, provided several options that were field tested by Densam himself. An RTP 2000 Series polycarbonate/PBT alloy specialty compound reinforced with glass fiber meets all requirements, with unnotched IZOD impact strength of 15.0 ft lbs/in at 1/8 in (801 J/m at 3.175 mm) and flexural modulus of 0.49 psi x 106 (3376 MPa). World record holder Jurgen Schult from Germany gave the final nod to the discus' performance.
The Denfi Sport discus helped two athletes realize their dreams at the recent Sydney 2000 Summer Olympic Games. Gold medalist Virgilius Alekna from Lithuania achieved a distance of 69.30 meters and bronze medalist Franz Kruger from South Africa reached a length of 68.19 meters.
Denfi Sport manufactures three discus models for men and women, including the Ultimate Spin, the Hi-Spin for use in headwinds, and the Hyper-Superspin for use in tailwind conditions. Their latest development is the Skymaster model for women; it remains in the air far longer than any other competition discus. Visit their website at www.image.dk/~denfi. Their distributor in the United States is Springco Athletics in Los Angeles. Their website is www.springco-ath.com. MBS Plastic in Denmark can be reached at +45-70-21-4111.