End-Use Case Study
Maintains functionality through repeated cleaning and sterilization
Glass reinforced PP provides stability to rocker arm
FDA compliant ingredients, including aqua-colored, polysulfone housing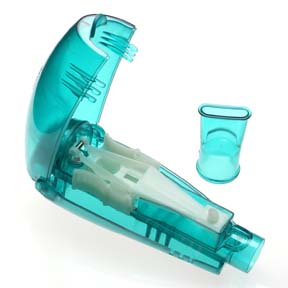 DHD Healthcare helps clear the air for patients suffering respiratory difficulties with their new acapella® choice vibratory positive expiratory pressure (PEP) system. The acapella choice, like other PEP systems, directs pulsated air to the lungs-agitating mucous and fluids making them easier to manually dispel. The acapella choice goes a step further, allowing the patient, under a physician's guidance, to make dial adjustments in the pulsation frequency, providing optimal effect for those afflicted with COPD, asthma, or cystic fibrosis. Further, it offers easy disassembly for regular cleaning via steam autoclaving, boiling, or machine dishwashing.
When designing the acapella choice, DHD plastics engineer Bob Cianfrocco sought materials capable of meeting the application's diverse demands. Material rigidity and dimensional stability were critical requirements for a rocker arm, the key internal component that positions the pulse-generating magnet. The position of the magnet controls frequency and ensures that therapy is dispensed as directed. Excessive creep or elongation would interfere with accurate operation. The 6 by 2 in (152 by 51 mm) shell required a material capable of withstanding repeated autoclaving under pressures of 30 psi (0.21 MPa) and temperatures of 270 degrees F (132 degrees C). Additionally, the shell material required a precise color, both for model identification and to correspond with existing corporate color schemes. Further, all materials needed to be FDA compliant and pass rigorous bio-compatibility tests.
DHD's engineering group worked with RTP Company's engineers to develop materials to satisfy all criteria. An RTP 100 Series glass reinforced polypropylene compound was chosen for the internal parts. With a flexural modulus of 0.8 psi x 106 (5510 MPa), and a heat deflection temperature of 295 degrees F at 264 psi (146 degrees C at 1.82 MPa), the compound proved capable of maintaining dimensions through repeated autoclaving. The FDA compliant ingredients used in the compound satisfied bio-compatibility requirements.
For the shell, an unfilled polycarbonate was originally chosen, but testing proved it lacked sufficient heat resistance. Polysulfone (PSU) was recommended as an alternative for its outstanding heat resistance, dimensional stability and relative ease of processing. Aware of the challenges in coloring PSU, but bolstered by previous success, RTP Company confidently developed an FDA compliant color concentrate.
Ken Pelerossi, DHD's engineering manager said, "RTP Company was eager to attempt what they knew to be a tough color match; a specific aqua that falls between our existing blue and green is not a big window to hit-and it was critical to us, and to patients, so that there are no mistakes in identifying our various models. And, they nailed it!"
Since 1973, DHD Healthcare of Wampsville, NY is one of the world's leading manufacturers of respiratory care products. For more information visit their website at www.dhd.com.