WINONA, MINNESOTA, USA – RTP Company, a leading global compounder of custom engineered thermoplastics that solve medical application challenges around the world, now offers tribology data from an innovative new friction test to help designers of drug delivery devices select the best possible material for single-use applications.
Designers, OEMs and molders are keenly aware of the issues that can arise when single-use drug delivery devices fail. It is critical that devices such as auto-injectors, injection pens, stop cocks, and safety syringes move easily and have a low break-away force to overcome friction.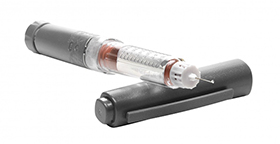 Various external factors, such as long periods of inactivity, shipping, and cold storage conditions can all have an effect on the friction behavior of plastic-on-plastic moving parts. These factors increase the chances of stick-slip phenomena or "stiction", resulting in poor performance of a drug delivery device.
Until recently, there were no established industry tests that accurately predicted friction behavior in single-use devices, making precise material selection difficult. RTP Company has developed an innovative friction test to accurately predict friction behavior in single-use devices. Using the new test method, RTP Company explored base resins including PC, POM, ABS, PC/ABS, HDPE, and PBT. These resins were tested in a variety of combinations with friction reducing additives including PTFE, PFPE Oil, and a selection of silicones, along with RTP Company's own All Polymeric Wear Alloy (APWA PlusTM).
Testing the friction behavior in various combinations of resins and friction reducing additives (known as "friction pairings") involves the measurement of the Static and the Dynamic Coefficients of Friction. The threshold representing the smallest delta between the two measurements has been coined by RTP Company tribologists as the "Glide FactorSM". Consistent, repeatable tests showed that the ideal friction pairings exhibited low Static Coefficient of friction (< 0.15) and a Glide FactorSM of < 0.015 (see Figure 1).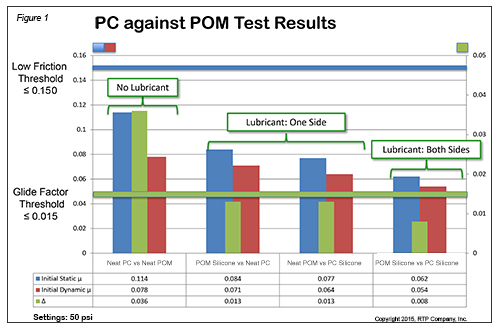 The data collected from these tests can prove invaluable, eliminating the need for trial and error when choosing the correct low friction thermoplastic. In addition, with proper material selection, single-use devices will perform more consistently without the need for external lubrication and extra processing steps, thereby decreasing manufacturing costs and time-to-market.
For more information on material selection data for single-use drug delivery devices, telephone (507) 454-6900, or visit www.rtpcompany.com.