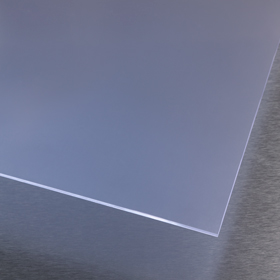 WINONA, MINNESOTA, USA – Engineered Sheet Products (ESP), a division of RTP Company, has developed a unique thermoplastic sheet with anti-static properties inherent throughout, providing permanent protection from the damaging effects of static electricity and dust. Known as PermaStat™ sheet, this compounded thermoplastic sheet features consistent surface resistivity of 109 to 1011 ohms/square, offering an excellent solution for OEMs and processors who require superior ESD protection and dust control. When higher conductivity and lower surface resistance (107 to 108 ohms/square) are required, ESP also offers PermaStat Plus™ sheet.
"PermaStat sheets offer significant benefits over surfactant anti-static coatings," explains Tom Gavinski, Sales Engineer for ESP. "Because they are made from thermoplastic compounds, the anti-static properties are inherent throughout the sheet. The sheet maintains ESD protection, even with scratches, wear, machining, or forming. PermaStat sheets also function well in low humidity – unlike migratory anti-static agents, which can be removed through product movement, cleaning agents, or evaporation."
The PermaStat sheets are free of carbon-based additives, and do not slough, making them ideal for dust-free environments. They are fully colorable, and can be custom colored to meet specific application requirements. In addition, they contain no corrosive agents to out-gas on metal components, thereby eliminating costly pre-cleaning steps in electronic assembly operations.
Available in a variety of resin systems, including PP, PC, Acrylic, PETG, ABS and others, PermaStat sheets can also be customized with structural reinforcements, flame retardant properties, and wear additives. They are made from compounds that comply with
MIL-PRF-81705D static decay specifications, and can also be made from compounds that comply with UL-94 V-O flame ratings.
PermaStat and PermaStat Plus sheets are available from ESP with full technical support from design through production. To learn more about PermaStat and PermaStat Plus sheets from ESP…
Additional Information
For questions regarding custom engineered thermoplastic sheets, telephone the ESP team at (800) 432-2386, or visit the ESP website at www.engineeredsheetproducts.com.
About ESP-Engineered Sheet Products, a division of RTP Company
ESP-Engineered Sheet Products, a division of RTP Company, applies 30+ years of thermoplastic compounding expertise into the manufacturing of specialty engineered thermoplastic sheet with a focus on Conductive, Anti-static, Thermoplastic Elastomer, Flame Retardant, High Temperature, Structural Reinforced, Wear, Lubricated, and Color solutions.