WINONA, MINNESOTA, USA – Global custom engineered thermoplastics compounder RTP Company has introduced a new series of flame retardant compounds for use in applications that require low heat, low smoke, and low flame spread for compliance with a number of building, HVAC, and transportation standards.
Unlike precursors made from expensive but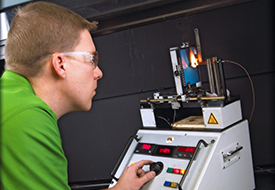 inherently flame resistant bases such as PEI, PES, and PEEK, RTP Company took a unique approach and developed flame retardant compounds based on commodity resins such as Polypropylene, Polyamides, and Polycarbonate. These compounds meet a wide range of standards, including UL2043, ASTM E84, FAR 25.853, ASTM E162, and ASTM E662.
"Our initial goal was to develop cost effective, compliant thermoplastic solutions that have the strength and stiffness required to replace metal and thermoset components for aerospace applications," explains Greg Fedor, Flame Retardant Products Business Manager at RTP Company. "Then, using what we learned from aerospace applications, we expanded our flame retardant technology based on the end product flame specifications and cost constraints governing each industry."
For example, RTP Company offers thermoplastic compounds that meet ASTM E84 and UL 2043 compliance for building applications such as wall coverings, conduit, and ductwork. They also developed materials that meet the interior compliance needs of the mass transit and aerospace industries. Their complete line of flame retardant thermoplastic compounds allows OEMs the freedom to design more complex components, while eliminating the need for secondary operations that are required in metal fabrication.
While meeting flammability standards is critical, RTP Company also understands that functionality is key, and can tailor properties to meet those needs. Because size, geometry, and nominal wall thickness play major roles in meeting flammability standards, RTP Company's material engineers are available to consult with product designers before specifying a particular solution. "We have done extensive research in flame retardant thermoplastic compounds, and we're happy to share our expertise with customers who are concerned about meeting regulations," says Fedor.
Flame retardant compounds from RTP Company are supported worldwide from its global facilities, which provide technical support from the design phase through finished part production.
For more information on RTP Company's flame retardant products or our complete portfolio of custom engineered thermoplastic compounds, call +1 507-454-6900.