End-Use Case Study
Charge-Neutral Material Optimizes Dosage for Asthma Inhaler Device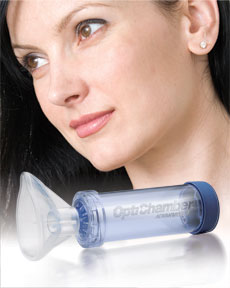 For drug delivery devices, ensuring patients receive consistent dosages is essential to successful treatment. When medication is delivered by aerosol inhalation, such as for asthma sufferers, administering inconsistent dosages can be problematic. It has been shown that valved holding chambers (VHC) can attract and hold residual amounts of medication due to static build-up, especially when used with a new class of inhalers that have replaced chlorofluorocarbon (CFC) propellants with hydrofluoroalkane (HFA).
VHCs are advantageous for patients who have difficulty coordinating their inspiration with the activation of the inhaler, such as children and the elderly. Conventional VHCs can build up static charge and require washing and air drying to reduce static prior to inhaler use. In response to these static issues, Philips Respironics, a leading provider of solutions for sleep and respiratory markets, developed its OptiChamber® Advantage II VHC to benefit asthma patients worldwide.
"The use of a charge-neutral material in our VHC was vital to meeting the needs of healthcare providers and their patients through improved design," said Robert Koshinskie, Sr. Product Manager for Philips Respironics. "By addressing static attraction, the product offers consistent and reliable delivery on first use out of package, whether washed or unwashed."
In order to achieve a neutral charge for the chamber, Respironics worked closely with RTP Company engineers to find a conductive material that would eliminate static build-up while maintaining a nearly water-clear appearance to aid in its operation. Ultimately, they chose a PermaStat® 600 Series all-polymeric, permanently anti-static ABS compound for the device. The material's low resistivity provided Respironics engineers just the right amount of static dissipation to optimize the chamber's functionality.
Other benefits of the OptiChamber® Advantage include its ability to be completely taken apart, making cleaning the device much easier. The VHC also offers a separate mask that attaches directly to the mouthpiece and can be used to assist infants and small children with medication inhalation.
Koshinskie also noted that the decision to choose RTP Company as their material supplier was not a difficult one. "We've always had a good relationship with RTP Company," he said. "This material gave us a great balance of low resistivity, high clarity, and strength, which was key to the success of our product."
Headquartered in Pennsylvania, Philips Respironics provides innovative solutions to the sleep and respiratory markets, and is recognized as the global industry leader for sleep-disorder breathing devices. For more information, about Respironics visit optichamberholdingchamber.respironics.com.