End-Use Case Study
Conductive casing offers low particulation for use in class 100 cleanrooms
Conductive elastomer overmold protects top of housing from impact damage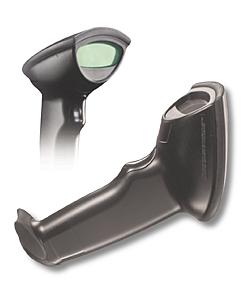 ESD (ElectroStatic Discharge) is the sudden transfer or discharge of electricity from one object to another. In cleanrooms or on factory floors, ESD poses a threat to product quality and may cause damage during any phase of manufacturing. Peripherals and tools used in processing, including scanners, may carry or generate electrical charge on their casings.
When engineers at Codestar, a leader in designing ESD-compliant industrial bar code scanners, designed the ESD Cleanscan™ for clean manufacturing environments, they called on RTP Company. "They provided a great deal of support and research in finding the right materials," said Greg Hall, President of Codestar. "We're now specifying conductive compounds with polycarbonate, PBT, and polyolefin thermoplastic elastomer, all of which provide important ESD properties."
The top of the ESD Cleanscan™ is shielded from impact thanks to an overmold that uses an RTP 2800 ESD Series conductive TPE compound. The high purity compound exhibits volume and surface resistivity of 109. In addition, the static dissipative, slough-resistant casing provides superior electrostatic grounding with low particulation and contamination important in meeting certification for Class 100 cleanroom use.
Codestar molds components at several domestic and offshore sites. They rely on RTP Company's global supply position and regionalized plant locations to maintain short lead times and ensure lot-to-lot consistency throughout the world.
Codestar Electronics, Inc., a Los Gatos, California-based firm that markets customized equipment for cleanroom use, can be reached by calling 408-366-9801 or by visiting their website at www.codestar.com.