End-Use Case Study
High Gravity TPE Material Improves Grip Performance While Retaining Golf Disc Flexibility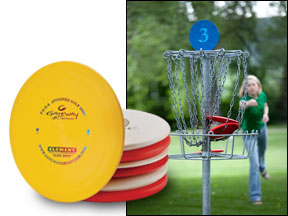 When the phrase "golfing" is mentioned, one's immediate reaction may be to imagine the standard ball and club game. However, a variation of this traditional game — called disc golf — adopts the use of density-modified plastic flying discs in place of balls and clubs.
Disc golf's popularity has rapidly grown over the last few decades to become a worldwide phenomenon, offering players an inexpensive and more accessible option to shooting an elusive hole-in-one. The object of the game — throwing a flying disc into a basket or at a target — has become easier with today's more durable and easier-to-grip discs.
Flying disc manufacturers have improved their products over the years to make them more thrower-friendly for novice and professional golfers. When Gateway Disc Sports, a supplier of high performance golf discs and accessories, wanted to upgrade their Shur-Grip™ product line, they turned to RTP Company for the ideal material.
"Our main goal was to find a material that would accept mineral additives to reach a density of 2.0," explained David McCormack, owner of Gateway. "At this particular density we are able to maintain the flexibility of our discs to adapt well to a variety of playing conditions. Other suppliers we tried could only achieve a density of 1.6, but RTP Company engineers were able to formulate a material that reached 2.0 easily."
Designers at Gateway selected an RTP 2800 B Series high gravity thermoplastic vulcanizate (TPV) compound as being best suited for their discs. The material has excellent surface abrasion and impact properties, which prolong the durability of discs during use while its thermoplastic elastomer nature provides necessary flexibility.
Gateway's products maintain consistently effective performance in all playing conditions — hot, cold, rainy, or dry. According to McCormack, polyurethane materials can become slippery with moisture, while their Shur-Grip™ discs remain easy-to-grip, providing more throwing control.
"When using mineral additives to modify density, we've discovered the softer thermoplastic elastomer components tend to migrate to the part surface during molding," said McCormack. "As a result, every disc we make has a tacky, easy-to-grip surface. This is a significant benefit for golfers, especially when playing in less-than-ideal conditions."
RTP Company's TPV-based thermoplastic elastomer material is also fully colorable over a wide spectrum — allowing for colors from earth tones to fluorescents making discs easy to spot on the course and appealing for a variety of player choices.
"We really found a perfect match with RTP Company," McCormack said. "With their material, batches were consistently accurate during every stage of production. This made it easy for us to create a quality product."
Gateway Disc Sports, based in St. Louis, manufactures and sells a unique line of golf discs and player-oriented accessories. For more information, visit www.gdstour.com.