End-Use Case Study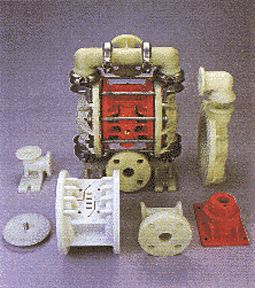 The chemical resistance of an RTP Company's glass fiber/polypropylene compound provides security against corrosion for parts used in fluid handling pumps. The Wilden diaphragm pump is an air-operated, positive displacement, self-priming pump. Manufactured by Wilden Pump & Engineering Company, Colton, California, the company developed its Champ series of plastic pumps to meet a growing need in the fluid handling market for noncorrosive pumps. Depending on size, these pumps move up to 155 gallons per minute.
RTP Company supplies the reinforced PP for Champ Model M2. Its corrosion resistance is important for handling liquid chemicals and waste products. Due to the plastic construction, the pump is lightweight, weighing 18 lbs. Metal versions of the same pump weigh 22-42 lbs.
"The parts are easy to mold and have a good surface finish" according to Guillermo (Willie) Morales, president of the molding company, M & A Plastics, Sun Valley, CA. There are no secondary finishing operations needed. In contrast, the metal pumps require secondary machining. This cost effective RTP Company compound meets the application's strength requirements with a 7800 psi tensile strength.