End-Use Case Study
Meets Food Contact Requirements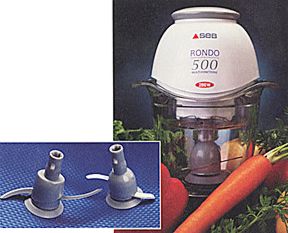 RTP France developed a specialty compound for use in S.A. SEB RONDO 500 counter top food grinders. The devices feature two sizes of ultrasonically welded blade assemblies.
The compound used in the blade assemblies is a glass-reinforced nylon with metallic pigments. The RTP 200 Series (nylon) material meets all structural, environmental and aesthetic needs.
The specialty compound is formulated to comply with European guidelines for food contact. It exhibits a flexural strength of 34,978 psi (241 MPa) and flexural modulus of 1.1 x 106 psi ( 7,579 MPa). The material tolerates various detergents and other household chemicals.
The metallic pigment system used enhances the part's smooth, reflective characteristics, improving the look and performance of the assemblies.
RONDO Series food grinders are available throughout Europe via specialty distributors. The RTP France facility is located in Beaune, France, about 150 miles southeast of Paris.