End-Use Case Study
Conductive Compound Ends Aluminum Casting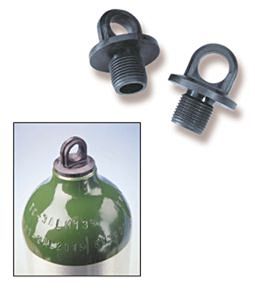 New, high-pressure aluminum compressed gas cylinders are finished in a rigorous washing, coating and curing system. The cylinders suspend from a conveyor by plug hooks that provide a grounding path for the powder coating. Luxfer Gas Cylinders, the world's largest manufacturer of aluminum high-pressure cylinders, reduces costs and lead times for its plug hooks by specifying a conductive RTP Company compound.
"We used an RTP 4000 Series PPA material for years," said Tim Bruder, Sales Representative for molder Southwest Plastics. "In order to get conductive properties in the hooks to provide a grounding path, we had to insert an aluminum cast part into the mold and machine it. The new conductive compound gives us the same performance and eliminates these expensive steps."
Bruder estimated that the new conductive compound reduced Luxfer's cost by approximately 40%. More importantly, the lead time for plugs was reduced from 16 weeks to a few days.
"Another big plus—besides cost and time—is maintenance," added Mark Churchman, Manufacturing Engineer for Luxfer. "Paint and powder accumulate on the plugs. We used to chemically clean them — a taboo in Southern California. Now, with our lower cost, we can throw away or recycle them."
The compound exhibits volume resistivity of 103 ohm-cm and surface resistivity of 105 ohm/sq. In addition to conductivity, the material is chemically resistant to withstand the paint and washing chemicals. It adapts well to the high-temperature curing process, with a heat deflection temperature of 540 degrees F (264 psi) or 282 degrees C (1820 kPa).
Holding the heavy cylinders while they twist and turn throughout the coating process demands high strength and rigidity. Tensile strength of the compound is 35,000 psi (241 MPa) and flexural strength is 49,000 psi (338 MPa).
Luxfer Gas Cylinders is the global leader in the manufacturer of high-pressure aluminum gas cylinders with six manufacturing facilities on three continents and U.S. corporate headquarters in Riverside, California. Luxfer has three plants in the U.S.: one in Graham, NC, and two in Riverside. Visit their website at www.luxfercylinders.com. Southwest Plastics in Glendora, California, can be reached at (626) 963-6919. Their website address is www.southwestplastics.com.