End-Use Case Study
Carbon nanotubes deliver uniform conductive surface
Low nanotube loadings maintain excellent PC impact properties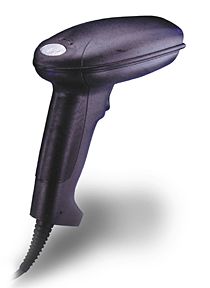 Elimination of "hot spots" or uneven surface charge distribution was a major issue that Hand Held Products faced when creating a new image scanner for clean room environments.
The IMAGETEAM™ 3800ESD is a high performance scanner designed for use in clean room assembly of sensitive electronic components. The scanner had to meet stringent regulations to be suitable for use in a Class 100 clean room environment. Properties such as low residual voltage, low surface resistivity, and low tribo-generating characteristics were extremely important in the plastic material selected.
"The electronics industry is very concerned with ESD," commented Larry Ramsey-Macomber, Product Manager for Area Imaging at Hand Held Products. Commonly known as "static electricity", ESD is responsible for millions of dollars worth of damage each year in the electronics industry.
Dependable materials that provide electrostatic protection and dissipation are essential in all components used in the electronics manufacturing process. "The other products out there were simply putting a case around a product. We addressed the whole system from the scanner to the cord. The conductive thermoplastic material was the key element in making this system work," said Ramsey-Macomber.
"We knew we needed a custom formulation," stated Gerard Beckhusen, Mechanical Engineering Manager for Hand Held Products, "We could not find an off-the-shelf product that would meet both our conductivity and strength requirements. When you add other property requirements to a base resin, you usually have to give up the strength." Beckhusen continued, "Our products are known for their durability. We did not want to compromise that to get the conductivity we needed." Hand Held Products quest for a unique compound led them to RTP Company for a solution.
Engineers at RTP Company suggested an innovative RTP 300 Series conductive carbon nanotube polycarbonate compound. "Nano" sized hollow carbon tubes provide an extremely high aspect ratio (length:diameter), capable of delivering ESD conductive properties at low loadings. Carbon nanotubes also create a more uniform conductive surface, eliminating dangerous "hot spots".
This material also provided low particulation, a surface resistivity of 103-105 ohm/sq, and excellent impact properties making it the optimum choice. RTP Company's close working relationship with Underwriters Laboratories helped by expediting the process of receiving the necessary UL Recognition for the materials flammability rating.
"RTP Company's people are quite knowledgeable. It helped us to be able to depend on their expertise." explained Beckhusen. "A representative from RTP Company was even on site when we did the molding trials. We will use RTP Company again," he concluded.
For more information on conductive nanotube compounds from RTP Company, call (507) 454-6900 or (800) 433-4787.
Hand Held Products of Skaneateles Falls, NY, is a Welch Allyn affiliate, specializing in design and development of affordable, high performance, image-based data collection systems for the transportation, postal, warehousing, distribution, manufacturing and retail markets. Visit their website at www.handheld.com.