End-Use Case Study
Compound Looks, Feels Like Metal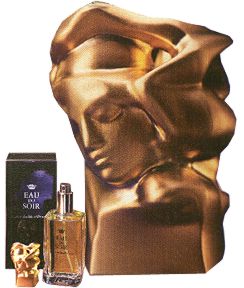 When it comes to perfume, the packaging is often more complex than the fragrance. No one understands this more than the French, who produce some of the world's finest designer scents.
La Maison Sisley in Paris patterned the cap for its Eau du Soir perfume after a detailed sculpture by contemporary artist Bronislaw Krzysztof. From the start of the project, thermoplastics were specified instead of metal to avoid sintering or individually machining the pieces.
Sisley worked with engineers at RTP Company's plant in Beaune, France, who developed a high-gravity specialty compound that approaches the heft and appearance of metal. The molded parts are economical and produced in high quantities.
The compound is polypropylene with a specific gravity of 2.0 and unnotched impact strength at 1/8 in of 7.5 ft lbs/in (400 kJ/m). It is chemically resistant to preserve its appearance despite repeated exposure to alcohol.
To complete the look, the caps are finished with matte gold chrome plating to impart a rich, metallic sheen and finish.
Eau du Soir was created by Hubert and Isabelle d'Ornano for Sisley Cosmetics, 16, avenue George V, 75008 Paris. (L'Eau du Soir est une creation Hubert, Isabelle d'Ornano, pour Sisley, Paris.) Their molder is Verchère Plastiques Industriels in Orgelet, France.