End-Use Case Study
High-flow Conductive Polypropylene Provides Pipette Tip Solution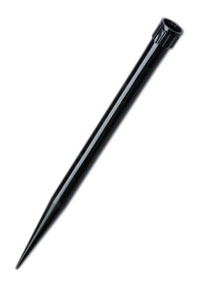 Linking productivity to employee health can be traced all the way back to 1914 when the Ford Motor Company initiated an ambitious effort to evaluate workers' lives and provide incentives for meeting its virtuous ideals. Today, occupational drug testing is commonplace and is often completed with automatic liquid-handling systems.
These diagnostic systems require extreme accuracy and efficiency, especially during the liquid transfer (or pipetting) phase, which is accomplished with highly specialized pipette tips. These tips are small devices usually consisting of a narrow tube that creates a vacuum above the liquid-holding chamber to draw down a sample and then release it to dispense the liquid.
Although most standard pipette tips do not require conductivity, the tips used in the liquid-handling drug testing systems not only require conductive properties, but superior physical properties as well as chemical resistance. Additionally, as pipette tip designs get increasingly longer and larger, the conductive compounds used to make them need to become easier flowing to accommodate a narrower processing window.
RTP Company identified the unique conductive and processing requirements of these thin-wall parts with restrictive flow paths. Existing compounds used in the pipette market had low melt flows, variation within manufacturing lots, and long lead times. RTP Company initiated development efforts to find a solution, which resulted in an extremely consistent, hydrophobic, high-flow, non-brittle conductive compound ideal for thin-wall molding.
One pipette tip supplier that benefited from RTP Company's innovation was Capitol Vial, whose specialty is producing FDA-approved polypropylene containers. Capitol Vial manufactures pipette tips as a value-added product to its automated CV1000 aliquot system used in urine drug testing.
"We were having some serious issues with our current pipette material," said Jim Lessley, Supply Chain Manager at Capitol Vial. "Melt flow was only around 2-3 grams and it was extremely hard to mold. The material also had a lot of variation within each batch."
RTP Company responded with an RTP 100 Series high flow conductive polypropylene compound that provided a viable solution without the need to modify tooling or part design. The easy-to-mold material achieved melt flows of 20 g/10 min and was specially designed to minimize warpage. It also had a notched IZOD impact strength of 2.5 ft-lbs/in (133 J/m) and a "no break" unnotched IZOD impact strength.
"We received a much higher level of support from RTP Company on this conductive compound than we ever received before," Lessley. "They performed extensive Design of Experiments (DOE) to further customize our compound. We received a more consistent material with better flow in our thin wall applications and there was also a cost savings."
Capitol Vial specializes in producing FDA-approved food grade polypropylene containers and can also apply engineering expertise to integrate its container technology into high speed packaging lines. www.capitolvial.com