End-Use Case Study
High gravity compounds
Chemical resistant
Outdoor weatherability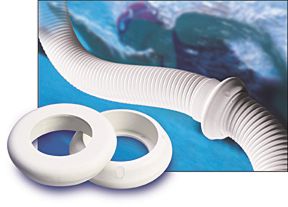 Vacuuming the deep end of an in-ground pool can be difficult, especially when the naturally-buoyant hoses lift the vacuum head off the bottom. Hoffinger Industries in West Helena, Arkansas, solves that problem by attaching heavy, flexible donuts at the junction of each hose section. The donuts are made from a high gravity RTP 2700 S Series styrenic-based thermoplastic elastomer compound.
"Our hoses come in three-foot lengths, and we ship one donut for each section," explained Charles Anderson, Engineering Manager at Hoffinger Industries. "The TPE material is heavy enough to counteract the buoyancy but soft enough to prevent harm to plastic liners or swimmers."
Designers at Hoffinger worked closely with RTP Company to perfect a unique compound that displays a hardness of 85 Shore A and a specific gravity of 2.10. The SEBS polymer was selected for its chemical resistance, outdoor weatherability, and good wear properties. "We tried other elastomers, but they abraded just like a pencil eraser. RTP was the only company to find a material that works," continued Anderson.
Currently, the donuts are white, but color may be on the horizon. "We're getting some wild colors in the vacuums now, so we'll need donuts that match," remarked Anderson.
Hoffinger Industries markets a wide range of recreation equipment. Contact them at (870) 572-3466 or e-mail canderson@hoffinger.com.