End-Use Case Study
Improved Nanotube Technology Used In New Computer Product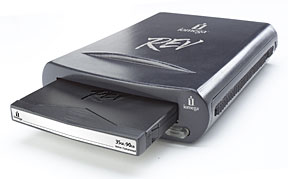 Breakthrough nanotube technology evolved during development of a breakthrough computer product. Iomega has changed the rules of data backup with its REV™ drive and removable REV™ disk that can store 35 gigabytes (GB) of native data and up to 90 GB of compressed data on a single disk. The REV™ disks used with the drive require a rugged material to provide a housing for the motor and media and to prevent electrostatic discharge (ESD). After testing several materials that gave inconsistent results, Iomega turned to RTP Company to develop a nanotube compound.
From the beginning of the development phase, Iomega determined that a nanotube-filled material would meet its strict REV™ disk requirements for ESD protection, dimensional stability and low particulation. RTP Company's conductive engineers focused their efforts on developing a toughened ESD material from their RTP 300 Series polycarbonate carbon nanotube compounds. The resulting formula proved to be a breakthrough in nanotube technology. RTP Company delivered a high-impact nanotube compound, while meeting Iomega's high purity standards to control outgassing.
"During early development, consistent resistivity and dissipative properties were difficult to achieve. With the help of RTP Company's development team we achieved and stabilized the required electrical properties," noted Kevin Sorensen, Supplier Quality Engineer, Iomega Corporation. "RTP Company was extremely cooperative and developed a material with consistent results. They provided unsurpassed support during the entire development phase starting at the sales force, and continuing throughout their entire development and applications personnel."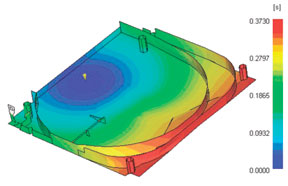 Particularly helpful to Iomega was the analysis provided by the Computer-Aided Engineering (CAE) Support Services. "We were very impressed with the level of support we received from RTP Company's CAE services," added Sorensen. "They were very responsive, providing slightly different material formulations when we had several issues initially in our multicavity tool and a few material issues. They very quickly responded in testing functions which provided positive results to meet our needs and product function."
Global support is vital to Iomega and was another deciding factor in choosing RTP Company as the material supplier. The REV™ disks were being molded in Singapore at First Engineering Plastics, and RTP Company's R&D team in Winona, Minnesota was able to efficiently coordinate efforts with RTP Company's Singapore manufacturing facility. The REV™ disk requirements were smoothly communicated and processed between the two continents. "RTP exceeded our expectations on the global factor with our supplier base," said Sorensen.
The REV™ drive and disk system has become the centerpiece of Iomega's portfolio of professional storage products. Impressive, considering that Iomega's 25-year history stretches back to the early years of the personal computer revolution when the company's founding engineers invented radical new approaches that changed the way businesses and computer hobbyists utilized portable computer storage. Now, as Iomega radically changes storage solutions once again with the REV™ drive and disk, RTP Company proudly takes part in the revolution with leading-edge nanotechnologies.
Iomega Corporation provides easy-to-use, high value storage solutions to help people protect, secure, capture and share their valuable digital information. The new Iomega REV™ 35GB Drive has won more than 15 awards since its release. The Company can be reached at 1-888-4-IOMEGA (888-446-6342), or on the Web at www.iomega.com.
First Engineering Limited is a leading manufacturer of ultra precision molds and plastics components for high technology engineering applications. The company delivers high volume production at its facilities in Singapore, Malaysia and China. For more information call, (65) 6756 8776 or go to www.first-engr.com.sg.