End-Use Case Study
RTP Company total solutions provider
Consolidate vendors
Save time and money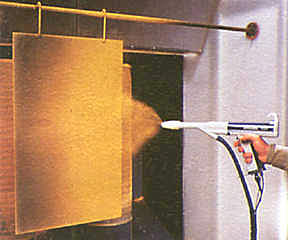 Nordson's Sure Coat™ spray gun is designed for performance, durability, and operator comfort. Comprised almost entirely of RTP Company specialty compounds, the gun offers a combination of application and electrostatic control features not available with any other system on the market. The result is superior transfer efficiency, coating quality, and consistency.
RTP Company was consulted from the project's beginning to help specify a broad range of materials that meet Nordson's exacting standards for conductivity, wear, performance, and "Nordson Blue" color match.
"Overall, RTP Company played an invaluable role in the selection of the materials to help make the Sure Coat™ spray gun a superior product," said Joseph Schroeder, Project Engineer. "They responded very quickly with a number of recommendations and specific reasons for using particular compounds."
Sure Coat™ spray guns deliver peak performance in a variety of coating modes. The gun body, trigger, electrode sleeve, and nozzles all demand compounds with superior wear properties and excellent mechanical performance.
The gun body is molded from an impact-modified polymer with glass fiber reinforcement. This material offers improved dielectric strength and arc track resistance. It also lowers water absorption and results in a smooth surface finish that eliminates excessive powder adhering to the gun barrel.
A new "leaf spring" design in the trigger eliminates a metal coil spring while meeting a heavy two million life cycle specification.
The electrode sleeve and nozzles feature a polymer ideal for abrasion resistant applications with heat deflection temperatures (HDT) of more than 400 degrees F at 264 psi (204 degrees C at 1820kPa). Nordson not only maintains excellent wear performance but eliminates expensive machining from rod stock.
End caps are molded from a high-impact polymer to handle tremendous force during paint application. This material features an unnotched impact strength of 18.0 ft lbs/in (961 J/m) and a tensile strength of 21,000 psi (145 MPa).
The gun handle and grip pad are molded from a precolored PBT polymer with black carbon fiber. "As we started selecting colors for the components, RTP Company again very quickly responded with color samples. I was able to use them for color matching and for materials testing," explained Schroeder.
Nordson Corporation in Amherst, Ohio, manufactures and markets systems that apply high-performance adhesives, sealants and coatings to a broad range of consumer and industrial products manufacturers. For more information, call Nordson at 1-800-626-8303.