New Materials Add Performance Boosts for Overmolded and Conductive Applications
Engineers in RTP Company's TPE Division have formulated several new materials that will expand the use of soft-touch polymers in overmolded and conductive applications.
RTP 6042 Bondable TPEs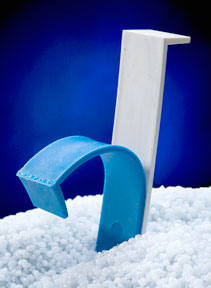 A new series of bondable thermoplastic elastomer (TPE) grades is now available, replacing the RTP 6002 Series with better cost effectiveness and improved processability. RTP 6042 Series materials are optimized for easy bonding to rigid substrates during overmolding.
Bondable to PC, ABS, PC/ABS, PC/PBT, PC/PMMA, and RTPU resins, the new series is available in Shore A hardnesses from 50 to 70. According to Paul Killian, Technical Marketing Manager – TPE Division, "The critical element in any overmolding process is the chemical bond between the soft elastomeric material and the rigid substrate. Our new RTP 6042 Series TPEs offer excellent bonding performance, which is essential for long application life cycles in the field."
RTP Company developed the RTP 6042 Series grades to be more competitive in the bonding arena. "We recognize that customers have a lot of material options to choose from," said Killian. "The RTP 6042 Series is a more consistent and economical product line that can be used as an off-the-shelf, go-to bonding material in a wide variety of applications."
"We see an immediate fit with consumer applications due to the product's easy coloring and a great cost to performance ratio," continued Killian. "The materials are also particularly well suited for rugged electronic devices with overmolded designs where excellent tensile and tear strength as well as abrasion resistance is required."
ESD C 2800 B Conductive TPEs
To compete with conductive thermoset rubbers, RTP Company has revamped its line of TPV (thermoplastic vulcanizate)-based conductive TPEs and introduced the ESD C 2800 B Series of materials. The new grades are available in durometers as low as 55 Shore A, making them ideal candidates to displace conductive EPDM rubber.
According to Killian, "The addition of conductive fillers raises the modulus and viscosity of materials, thus negatively affecting both flexibility and processability. Historically, this has made it difficult to obtain flexibility and feel similar to EPDM rubber. These new compounds achieve our goal of a highly conductive TPV material with good flexibility and elastomeric feel, high tear strength, and easy moldability."
ESD C 2800 B Series grades feature a volume resistivity of 100 ohm-cm and a surface resistivity of 104ohm/sq. "Although targeted as a replacement for conductive EPDM rubber in electrical grounding and automotive applications, these products also provide a significant reduction in viscosity versus previous conductive TPVs in the marketplace," said Killian. "Injection molders will find these products much easier to work with than conductive TPEs of the past. They're an ideal drop-in replacement for applications where ESD protection with TPE properties is needed."
For more information, contact RTP Company at 507-454-6900 or 800-433-4787, or e-mail rtp@rtpcompany.com.