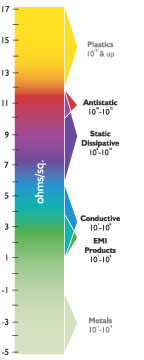 In addition to the variety of TPE technologies available from RTP, there are a number of conductive additive technologies to choose from when your application requires conductive properties. Only RTP Company combines its broad TPE technology portfolio with proven conductive technologies to offer an unmatched line of permanently anti-static/ static dissipative, conductive/ESD protection, and EMI shielding TPE products.
Through our conductive technologies, RTP Company can tailor a product to hit a precise range of surface and volume resistivity performance. This graph shows the different levels of resistivity performance ranging from unmodified or insulative plastic down to the performance of metal:
Conductive Performance
The properties used to measure the conductive performance are:
Surface resistivity (ohm/sq) — ASTM D257
Volume resistivity (ohm-cm) — ASTM D257
Surface resistance (ohm) — ESD STM11.11
Static Decay (seconds) — FTMS101C 4046.1
EMI shielding (decibels of attenuation) — ASTM D4935
Conductive TPE Technologies
The technologies used to produce Conductive TPE products is as diverse as the testing used to measure final compounds:
Carbon Black and Carbon Fiber
ESD series: Provides strong and effective resolution to static issues
Carbon Nanotubes
Delivers conductive properties at very low loadings
Inherently Dissipating Polymer (IDP) technology
Fully colorable with permanent static dissipative properties
Electromagnetic Interference Sheilding
EMI Series: Stainless Steel Fibers, NCG Fibers, and Silver coated particulates
Through RTP Company's diverse TPE and conductive additive technology, we can offer a wide variety of compounds ranging from permanently static dissipative overmolding grades (PermaStat PLUS® 6000 series) to conductive TPV alloys (ESD C 2800 B series) to specialty EMI shielding products in several resin families.
Data Sheets:

---
Request your copy of our TPE Elastomer brochure today!
Learn more about RTP Company's extensive portfolio of elastomers and the process of having a specialty compound formulated for your application's requirements.

Thermoplastic Elastomer (TPE) Brochure
More Information
Innovation Bulletins
White Papers