End-Use Case Study
Rapid Injection Molding with Specialty Compounds
The Challenge…Manufacturing will not be ready for 3-4 months and parts are required for pilot production.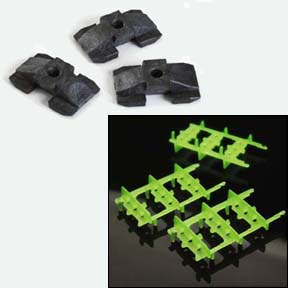 Rapid Injection Molding provides a solution to this challenge. Rapid Injection Molding is a process that quickly turns out high quality products and is frequently referred to as the "bridge" between prototyping and conventional injection molding. Many products that are manufactured using this process are formulated using specialty compounded materials from RTP Company.
The Protomold Company, Inc., headquartered in Maple Plain, Minn., is a leader in this niche by utilizing proprietary software tools that automate much of the process and by manufacturing molds using advanced aluminum alloys and high-speed CNC machining. Choosing appropriate materials is a crucial part of their operation, which is why Protomold and their customers often turn to RTP Company for custom compounds when faced with demanding property requirements for unique applications. "Protomold routinely encounters customers with demanding material property requirements and accelerated delivery schedules. Thanks to the specialty compounds available from RTP Company we can usually achieve both," said the company's president, Brad Cleveland.
In the manufacture of prototype components for MTS Systems Corporation's Omni Directional Treadmill (ODT), Protomold used RTP 200 Series nylon 6/6 carbon fiber reinforced and PTFE lubricated compound due to its material's excellent wear resistant properties. "Our project needed a means of keeping a continuous belt centered and on-track," said ODT creator David Carmein of MTS. "We also needed low belt hysteresis and transverse stability. By molding discrete t-sections fitting into t-tracks, and employing the rigid-yet-lubricious RTP-supplied material, we were able to meet all of our requirements."
Rapid Injection Molding is an ideal process for prototypes that need to undergo design changes during development. In another application, Protomold and RTP Company worked with Aupperle and Associates to customize a part known as a "key cap divider" that is integral to a switch array. Snapped into an associated circuit board it retains, guides and limits the movement of snap-in key caps. The part went through rapid prototyping alterations prior to its release to Protomold. After the first parts were delivered, a component change forced a redesign. Again Protomold was able to quickly deliver. The key cap divider parts used a "super charged glow-in-the-dark" RTP 300 Series polycarbonate. "This tool will provide initial production parts until full production is completed for volume manufacture," commented Don Aupperle of Aupperle and Associates.
Protomold's quick and low-cost Rapid Injection Molding process is significantly reducing the lead time and cost associated with obtaining functional plastic parts. When this technology is combined with specialty compounds from RTP Company, streamlining product development becomes a reality.
Protomold is a fast growing Rapid Injection Molding company who has changed the economics and lead times associated with prototype and low-volume production of injection molded parts. Further information can be found at www.protomold.com.