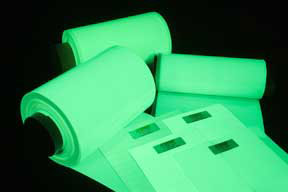 RTP Company introduces a new line of Photoluminescent Sheet products that meet or exceed common photoluminescent safety and egress standards.
The new product line consists of glow-in-the-dark standard products that are available in roll stock or cut to length. The product offerings include a rigid polycarbonate sheet with white backing, and a flexible product designed for egress tape that is suitable for use as an EXIT sign sheet. The egress tape product is flexible, durable, resistant to cleaning chemicals, and tear resistant.
"Our new product line was specifically designed for the safety and egress markets," says Bill Minogue, General Manager of RTP Company's Sheet Division. "We are on the leading edge of glow-in-the-dark technology and these products glow with an intensity and duration unlike any other material."
RTP Company's Photoluminescent extruded sheet products offer many advantages over current products in the market. The clear top coat provides protection against abrasion to minimize scratching and scuffing. This protective film is also resistant to water, oil, acid, and alkaline materials. The sheet products are easily printed on with water or solvent based inks using flexography, offset lithography, screen printing, and UV curable ink printing. They also can be laser marked with no pre-treatment.
Because the Photoluminscent Sheet products are not PVC, the plasticizers will not migrate to surface interfering with adhesion of printing inks or adhesives that are applied to signs or wall surfaces. Nor will they have shrinkage problems and odor, or out gassing, that are associated with PVC Products.
"We believe that RTP Company's extrusion technology has provided the market place with major product advancement, compared to the current cast, liquid resin systems." said Minogue. "Our extruded sheet process evenly distributes the phosphorescent pigment particles, which results in a brighter and longer glowing product."
Additional Information