RTP Company Introduces Ultra Performance Series of Carbon Fiber Reinforced Thermoplastic Compounds
WINONA, MINNESOTA, USA– Global custom engineered thermoplastics compounder RTP Company has elevated the mechanical properties of its industry-leading portfolio of high temperature structural products to include new "ultra performance" compounds based on carbon fiber reinforced PEEK, PPA, PPS, and PEI resin systems to create the highest performing thermoplastic products available.
"Injection moldable materials with this kind of performance are groundbreaking in their ability to open up new opportunities for using thermoplastics," said Matt Torosian, High Temperature Product Manager at RTP Company.  "We achieved this elevated performance by drawing upon RTP Company's knowledge and expertise in compounding high temperature polymers and fiber reinforcements to engineer a platform of products that raise the capabilities of thermoplastic compounds to new levels."
Manufactured using advanced compounding techniques that maximize fiber integrity; Ultra Performance Structural Compounds from RTP Company achieve strength and stiffness properties that are higher than previously available products.  Combining the higher mechanical properties and lower densities of carbon fiber with the excellent thermal and chemical resistance provided by using high temperature resin systems allows these injection moldable thermoplastic materials to close the performance gap between plastics and metals.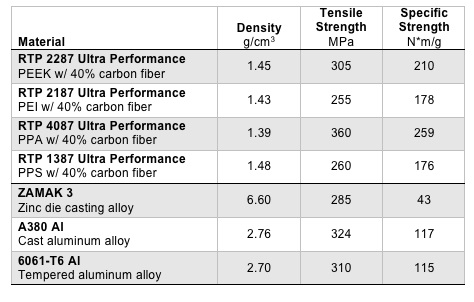 Products are available in high temperature resin systems with carbon fiber reinforcement loadings from 20-40% to provide performance options that meet a broad range of requirements for demanding applications in energy, industrial, aerospace, automotive, and medical markets that previously required aluminum, zinc, and magnesium metals.
"With higher strength and stiffness values along with improved impact and fatigue resistance, these materials provide across the board performance improvements that will give product designers added confidence when specifying Ultra Performance Structural Compounds to replace traditional materials," said Torosian.  "These high temperature polymers combine excellent chemical resistance with very high strength and stiffness making them the premier choice for energy exploration, industrial fluid handling, and other applications that are exposed to harsh service environments."
"These materials will allow more product designers to take advantage of the design freedoms plastics offer," added Torosian. "That translates into weight reduction opportunities, having the ability to overcome design limitations through part consolidation and optimization, and to reduce manufacturing cost and shorten production time by obtaining net shape parts through a one-step injection molding process that eliminates secondary operations."
In addition to structural characteristics, RTP Company can incorporate other capabilities during compounding, such as wear and friction resistance at high pressure/velocity ratios without needing external lubricants.  PEEK, PEI, and PPS materials are inherently flame retardant and often chosen for their low burning toxicity, but flame retardants can also be added to PPA to increase product safety.
Ultra Performance Structural Compounds and all other products from RTP Company are available and supported worldwide through their global facilities that provide technical support from design through finished part production.
For more information please go to the Ultra Performance Structural Compounds page and download the Innovation Bulletin available at the bottom of the page.