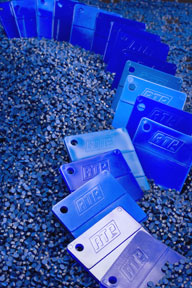 RTP Company announces UniColor®, an exciting new product line of universal masterbatches. UniColor™ can be utilized to color all polymers, including engineering resins with extremely low let down ratios, typically 1% or 2% depending on the polymer.
"UniColor® is a unique and truly universal color concentrate incorporating technology which has been proven in the marketplace for injection molding, blow molding and extrusion," stated Jean Sirois, Color Division General Manager at RTP Company. "It offers a great solution to processors that want one color product for many applications made with various polymers."
UniColor® masterbatches are based on an advanced proprietary carrier which results in superior distribution properties. The initial offering includes 33 standard colors which provide very low coloring cost. It is compatible with a range of resins from polyolefins to PVC. Custom UniColor® products can also be developed to meet any color specification.
Initially, UniColor® products will be produced at RTP Company's United States and European manufacturing facilities. RTP Company's Singapore and Suzhou, China facilities will offer the product line at a later date. Small sample lots are immediately available for trial by contacting an RTP Company Sales Engineer or an RTP Color Account Manager. More information can be obtained at www.rtpcolor.com.